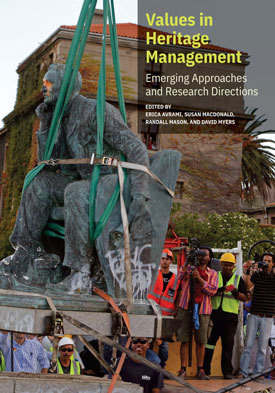 Open Access
Values in Heritage Management: Emerging Approaches and Research Directions
Edited by Erica Avrami, Randall Mason, Susan Macdonald, and David Myers
2019
258 pages
PDF file size: 4.2 MB
Description
Over the last fifty years, conservation professionals have confronted increasingly complex political, economic, and cultural dynamics. This volume, with contributions by leading international practitioners and scholars, reviews how values-based methods have come to influence conservation, takes stock of emerging approaches to values in heritage practice and policy, identifies common challenges and related spheres of knowledge, and proposes specific areas in which the development of new approaches and future research may help advance the field.
Table of Contents
Foreword — Jeanne Marie Teutonico
Acknowledgments
Part I. Background

1. Introduction — Erica Avrami, Susan Macdonald, Randall Mason, and David Myers
2. Mapping the Issue of Values — Erica Avrami and Randall Mason

Part II. Perspectives from the Field

3. Spatializing Values in Heritage Conservation: The Potential of Cultural Mapping — Erica Avrami
4. Heritage Work: Understanding the Values, Applying the Values — Kristal Buckley
5. The Shift toward Values in UK Heritage Practice — Kate Clark
6. Understanding Values of Cultural Heritage within the Framework of Social Identity Conflicts — Karina V. Korostelina
7. The Contemporary Values behind Chinese Heritage — Kuanghan Li
8. Values-Based Management and the Burra Charter: 1979, 1999, 2013 — Richard Mackay
9. Is Conservation of Cultural Heritage Halal? Perspectives on Heritage Values Rooted in Arabic-Islamic Traditions — Hossam Mahdy
10. Changing Concepts and Values in Natural Heritage Conservation: A View through IUCN and UNESCO Policies — Josep-Maria Mallarach and Bas Verschuuren
11. Valuing Traumatic Heritage Places as Archives and Agents — Randall Mason
12. Values and Relationships between Tangible and Intangible Dimensions of Heritage Places — Ayesha Pamela Rogers
13. The Paradox of Valuing the Invaluable: Managing Cultural Values in Heritage Places — Tara Sharma
14. Heritage Economics: Coming to Terms with Value and Valuation — David Throsby
15. From the Inside Looking Out: Indigenous Perspectives on Heritage Values — Joe Watkins

Appendix: Conclusions and Recommendations of the Symposium Participants
Further Readings in Heritage Values
Symposium Participants
Contributors
About
About the Authors
Erica Avrami is the James Marston Fitch Assistant Professor of Historic Preservation at Columbia University's Graduate School of Architecture, Planning, and Preservation, and a research affiliate at the Center for Sustainable Urban Development at Columbia's Earth Institute. She was formerly the director of research and education for World Monuments Fund and a project specialist at the Getty Conservation Institute. She earned her BA in architecture and MS in historic preservation, both at Columbia, and her PhD in planning and public policy at Rutgers University. She was a trustee and secretary of US/ICOMOS from 2003 to 2010 and currently serves on the editorial advisory board of the journal Change Over Time.
Randall Mason is chair of the Graduate Program in Historic Preservation, associate professor of city and regional planning, and executive director of PennPraxis at the University of Pennsylvania's School of Design. He worked previously at the Getty Conservation Institute and maintains an active practice in heritage conservation and urban planning. His book The Once and Future New York (University of Minnesota Press, 2009) won the Society of Architectural Historians' Antoinette Forrester Downing Book Award in 2011, and in 2012–13 Mason held the National Endowment for the Arts Rome Prize at the American Academy in Rome. Current projects include conservation of genocide memorial sites in Rwanda, conservation planning for an abandoned island in New York, and Philadelphia-based research on civic infrastructure and the efficacy of creative place making. He holds a PhD from Columbia University.
David Myers is a senior project specialist at the Getty Conservation Institute, manager of the GCI's Recording and Documentation Unit, and a member of the Buildings and Sites Department. He works on the Arches open-source heritage inventory and management system and manages the GCI project Heritage Values, Stakeholders, and Consensus Building. In the past he has worked on GCI projects in Jordan, Egypt, southern Africa, Iraq, and Los Angeles. He previously served as a legislative assistant to a member of the US House of Representatives.
Susan Macdonald is the head of field projects at the Getty Conservation Institute (GCI), where she oversees the Conserving Modern Architecture Initiative. Susan trained as an architect and planner, has a master's degree in conservation studies from the University of York/International Centre for the Study of the Preservation and Restoration of Cultural Property (ICCROM), and has worked as a conservation practitioner in her native Australia and in England. She has a particular interest in the conservation of twentieth-century heritage and has written widely on this subject.
Press Reviews and Awards
"Featuring distinguished authors steeped in the theory and practice of heritage conservation, this book effectively captures the 21st century shift in notions of heritage value. A timely discussion of theoretical frameworks and practical approaches to values-based decision-making, this Getty publication will appeal to scholars and heritage professionals as well as to students, policy makers and local authorities in search of guidance for understanding and managing significant places in their communities." —Christina Cameron, Université de Montréal