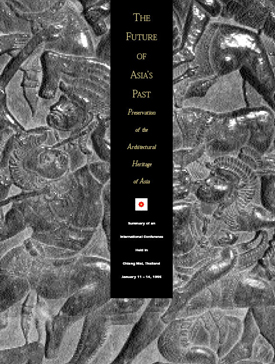 The Future of Asia's Past: Preservation of the Architectural Heritage of Asia
Edited by Miguel Angel Corzo
1995
76 pages
PDF file size: 847.1 KB MB
Description
Over the course of five days over 350 leaders from around the world gathered in Chiang Mai, Thailand, to discuss the future of Asia's past. This important gathering brought representatives from cultural authorities, experts on the cultural field, international organizations, corporations, tourism authorities, and interested public to take stock of what is presently being done and what can be done in the future to protect Asia's cultural heritage from urban sprawl, increasing tourism, pollution, war, and all the vast array of threats to the testimony of civilization.

This publication summarizes the topics presented in the plenary sessions and in the smaller discussion groups centered around some important architectural and archaeological sites and monuments. It also includes the keynote addresses presented at the beginning of the conference and the recommendations agreed to by the speakers of the conference at its conclusion.
Table of Contents
Preface
Migeul Angel Corzo and Vishakha N. Desai
Welcoming Remarks
Nicholas Platt
Opening Address
Rear Admiral Usni Pramoj, Representative of Her Majesty Queen Sirikit
Keynote Address: Bringing Conservation Philosophy into Practice
Anand Panyarachun
Introduction to the Conference
Vishakha N. Desai
Plenary Session 1: Preservation Policy in Asia

Site Management Session I

Luang Prabang, Laos
Nara, Japan
Angkor, Cambodia

Plenary Session 2: Cultural Tourism and Monuments

Site Management Session 2

Borobudur, Indonesia
Ajanta, India
Bagan, Myanmar

Plenary Session 3: Vernacular Architecture and Colonial Legacy

Site Management Session 3

Kyongju, Korea
Mohenjo-Daro, Pakistan
Harappa, Pakistan
Hue, Vietnam

Plenary Session 4: Public and Private Partnerships

Site Management Session 4

Dunhuang, China
Herat, Afghanistan
Samarkand and Bukhara, Uzbekistan
Ayutthaya, Thailand

Plenary Session 5: Threats to Heritage Sites
Plenary Session 6: World Monuments Watch: The Endangered Heritage Program of the World Monuments Fund
Conclusions and Recommendations
Closing Remarks
Sponsors
Addresses
About the Authors
Vishakha N. Desai is Vice President for Cultural and Interdepartmental Programs and Director of the Galleries, Asia Society.

Miguel Angel Corzo is Director of the Getty Conservation Institute.

Nicholas Platt is President of the Asia Society, U.S.A.

Rear Admiral Usni Pramoj is representative of Her Majesty Queen Sirikit

Anand Panyarachun, the former prime minister of Thailand, is Chairman and Chief Executive Office of Saha-Union Corporation Ltd., Chairman of the Council of Trustees, Thailand Environment Institute, and Chairman of the Thailand Business Council for Sustainable Development.