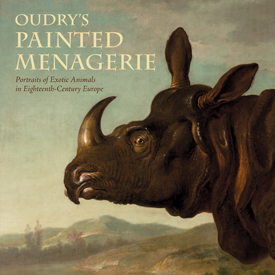 EXHIBITION CATALOGUE
Oudry's Painted Menagerie: Portraits of Exotic Animals in Eighteenth-Century France
Edited by Mary Morton, with contributions by Colin Bailey, Marina Belozerskaya, Charissa Bremer-David, Christoph Frank, Christine Giviskos, and Mark Leonard
2007
168 pages
PDF file size: 130.0 MB
Description
In the 1720s and 1730s, Jean-Baptiste Oudry established himself as the preeminent painter in France of hunts, animals, still lifes, and landscapes. Oudry's Painted Menagerie focuses on a suite of eleven life-size portraits of exotic animals from the royal menagerie at Versailles, painted by Oudry between 1739 and 1752. These paintings eventually found their way into the ducal collection in Schwerin, Germany. Among them is the magnificent portrait of Clara, an Indian rhinoceros who became a celebrity in mid-eighteenth-century Europe. Her portrait has been out of public view for more than a century, and it is presented here in its newly conserved state.
Table of Contents
Foreword
Michael Brand
Acknowledgments
Mary Morton
"A long working life, considerable research and much thought": An Introduction to the Art and Career of Jean-Baptiste Oudry (1686–1755)
Colin B. Bailey
Pictorial Relations: New Evidence on Jean-Baptiste Oudry and the Court of Mecklenburg-Schwerin
Christoph Frank
Menageries as Princely Necessities and Mirrors of Their Times
Marina Belozerskaya
Technique and Tradition in Oudry's Animal Drawings
Christine Giviskos
"Animal Lovers Are Informed"
Charissa Bremer-David
Notes on the Restoration of Jean-Baptiste Oudry's Rhinoceros and Lion
Mark Leonard
Oudry's Painted Menagerie
Mary Morton
Plates
Selected Bibliography
Index
About the Authors
Mary Morton is associate curator of paintings at the J. Paul Getty Museum.

Colin Bailey is chief curator at the Frick Collection.

Marina Belozerskaya is an independent scholar based in Los Angeles.

Charissa Bremer-David is associate curator of sculpture and decorative arts at the J. Paul Getty Museum.

Christoph Frank is a professor at the Accademia di Architettura of the Università della Svizzera Italiana.

Christine Giviskos is assistant curator of drawings at the J. Paul Getty Museum.

Mark Leonard is conservator of paintings at the J. Paul Getty Museum.