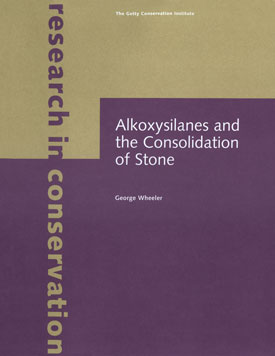 Alkoxysilanes and the Consolidation of Stone
George Wheeler with annotated bibliography by Elizabeth Stevenson Goins
2005
160 pages
PDF file size: 16.5 MB
Description
Stone is one of the oldest building materials, and its conservation ranks as one of the most challenging in the field. Alkoxysilanes in stone conservation can be traced back to 1861, when A. W. von Hoffman suggested their use for the deteriorating limestone on the Houses of Parliament in London. Alkoxysilane-based formulations have since become the material of choice for the consolidation of stone outdoors.
This volume, the first to comprehensively cover alkoxysilanes in stone consolidation, synthesizes the subject's vast and extensive literature, which ranges from production of alkoxysilanes in the nineteenth century to the extensive contributions from sol-gel science in the 1980s and 1990s. Included are a historical overview, an annotated bibliography, and discussions of the following topics: the chemistry and physics of alkoxysilanes and their gels; the influence of stone type; commercial and noncommercial formulations; practice; lab and field evaluation of service life; and recent developments.
Designed for conservators, scientists, and preservation architects in the field of stone conservation, this book will also serve as an indispensable introduction to the subject for students of art conservation and historic preservation.
Table of Contents
Foreword, Timothy P. Whalen
Preface
Acknowledgments
Historical Overview
The Chemistry and Physics of Alkoxysilanes and Their Gels

Essential Ingredients
Addition of Water
Catalysis
Gelation, Syneresis, and Ripening
Drying

The Influence of Stone Type

Mineral Composition
The Clay Problem
Other Stone Types
Other Issues of Structure
Darkening and Color Changes

Commercial and Noncommercial Formulations

Commercial Formulations
Noncommercial Formulations

Practice

Preconsolidation
Moisture and Wetness
Biological Growth
Salts
Application Techniques
Consumption
Application Schedule
Conflicting Activities
Darkening and Color Changes
Application on Black Crusts
Water Repellents
Safety and Storage

Laboratory and Field Evaluation of Service Life
Recent Developments and Final Thoughts
References
Annotated Bibliography, Elizabeth Stevenson Goins
Index
Illustration Credits
About the Author
About the Authors
George Wheeler is director of Conservation Research in the Historic Preservation Department at Columbia University and a Research Scientist at The Metropolitan Museum of Art.
Elizabeth S Goins is an associate professor at Rochester Institute of Technology in the Department of Performing Arts and Visual Culture