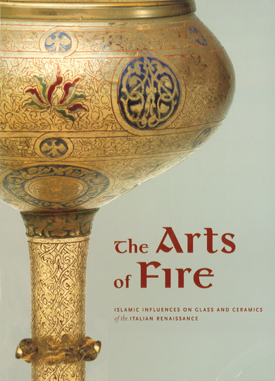 EXHIBITION CATALOGUE
The Arts of Fire: Islamic Influences on Glass and Ceramics of the Italian Renaissance
Edited by Catherine Hess, with contributions by George Saliba and Linda Komaroff
2004
184 pages
PDF file size: 14.0 MB
Description
Students and scholars of the Italian Renaissance easily fall under the spell of its achievements: its self-confident humanism, its groundbreaking scientific innovations, its ravishing artistic production. Yet many of these achievements were made possible only by Italy's proximity to the Islamic world. The Arts of Fire shows just how important Islamic influences were on one particular facet of the Italian Renaissance: the development of Italian luxury ceramics and glass.

Published to coincide with an exhibition at the J. Paul Getty Museum, The Arts of Fire demonstrates how many of the techniques of glass and ceramic production and ornamentation were first developed in the Islamic East between the eighth and twelfth centuries. Essays by volume editor Catherine Hess and by Linda Komaroff and George Saliba demonstrate early modern Europe's debt to the Islamic world and help us better understand the interrelationships of cultures over time.
Table of Contents
Foreword
Deborah Gribbon
Acknowledgments
Catherine Hess
Map of the Islamic World and Southern Europe, ca. A.D. 700–1800
Brilliant Achievements: The Journey of Islamic Glass and Ceramics to Renaissance Italy
Catherine Hess with the assistance of Nassim Rossi
Color, Precious Metal, and Fire: Islamic Ceramics and Glass
Linda Komaroff
The World of Islam and Renaissance Science and Technology
George Saliba
Plates
Blown Glass
Islamic Enameled and Gilded Glass
Islamic Influences on Italian Glass
Tin Glaze and Luster on Ceramics
Islamic Motifs on Italian Ceramics
The Albarello
The Influence of Porcelain
Glossary
References
Index
About the Authors
Catherine Hess is associate curator of sculpture at the J. Paul Getty Museum.

George Saliba is professor of Arabic and Islamic science at Columbia University.

Linda Komaroff is curator of Islamic art at the Los Angeles County Museum of Art.