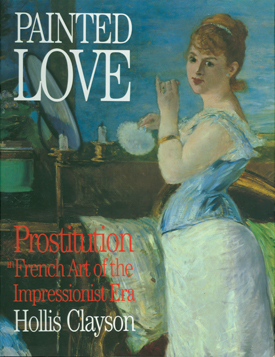 Painted Love: Prostitution in French Art of the Impressionist Era
Hollis Clayson
2003
224 pages
PDF file size: 62.7 MB
Description
Prostitution was widespread in nineteenth-century Paris and, as French streets filled with these women of the night, French art and literature of the period took notice. This engrossing book explains why, providing the first description and analysis of French artistic interest in women prostitutes and examining how the subject was treated in the art of the 1870s and 1880s by such avant-garde painters as Cézanne, Degas, Manet, and Renoir, as well as by academic and lowbrow painters who were their contemporaries.

The volume illuminates not only the imagery of prostitution—with its contradictory connotations of disgust and fascination—but also issues and problems relating to women and men in a patriarchal society. It discusses the conspicuous sexual commerce during this era and the resulting public panic about the deterioration of social life and mores and describes the system of regulating prostitutes and the subsequent rise of clandestine prostitutes, who were condemned both for blurring social boundaries and for spreading sexual licentiousness among their moral and social superiors. The book argues that the subject of covert prostitution was especially attractive to vanguard painters because it embodied key notions of modernity, exemplifying the commercialization and ambiguity of modern life.

Publications in the Texts & Documents series introduce new scholarship as well as reprints and previously unavailable translations of the most adventurous work in the field of art history, both past and present.
Table of Contents
List of Illustrations
Acknowledgments
Introduction
Chapter One: Painting the Traffic in Women
Chapter Two: In the Brothel
Chapter Three: Testing the Limits

The Menace of Fashion
The Invasion of the Boulevard

Chapter Four: Suspicious Professions

Working Women for Sale?
Mutual Desire in the New Nightspots

Notes
Bibliography
Index
About the Authors
Hollis Clayson is professor of art history at Northwestern University.
Press Reviews and Awards
"[T]he only serious study of the visual representation of prostitution during the impressionist era. An excellent and important work." —Linda Nochlin, Lilla Acheson Wallace Professor of Modern Art, Institute of Fine Arts, New York University