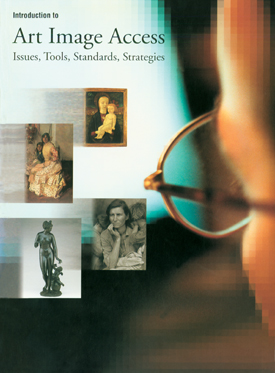 Introduction to Art Image Access: Issues, Tools, Standards, and Strategies
Edited by Murtha Baca, with contributions by Patricia Harpring, Colum Hourihane, Sara Shatford Layne, and Christine L. Sundt
2002
104 pages
PDF file size: 38.0 MB
Description
With the proliferation of information on the World Wide Web and in other networked environments, one of the main things that users search for are images of works of art and architecture. End-users generally try to search for images by subject, a process that often proves unsatisfactory and frustrating. Cataloging images of works of art has always been challenging, but now that end-users need only have access to the Internet, the challenge is more daunting than ever.

This illustrated book on using metadata standards and controlled vocabularies to catalog and provide accurate end-user access to images of works of art also focuses on decisions that must be made about the arrangement of visual records, descriptive principles and methodologies, and requirements for access. Introduction to Art Image Access addresses the issues that underlie a visual collection to make it accessible in an electronic environment. A glossary, selected bibliography, and list of acronyms and URLS are included.
Table of Contents
Introduction
Murtha Baca
Subject Access to Art Images
Sara Shatford Layne
The Language of Images: Enhancing Access to Images by Applying Metadata Schemas and Structured Vocabularies
Patricia Harpring
It Begins with the Cataloguer: Subject Access and the Cataloguer's Perspective
Colum Hourihane
Plates
The Image User and the Search for Images
Christine L. Sundt
Annotated List of Tools
Glossary
Selected Bibliography
Contributors
Illustration Credits
About the Authors
Murtha Baca, head of the Standards Program at the Getty Research Institute, holds a Ph.D. in Art History and Italian Literature from the University of California, Los Angeles. At the Getty, her work focuses on data standards and structured vocabularies for describing and accessing information on the visual arts and architecture. "A Picture Is Worth a Thousand Words: Metadata for Art Objects and Their Visual Surrogates" in Wayne Jones, Judith R. Ahronheim, and Josephine Crawford, eds., Cataloging the Web: Metadata, AACR, and Marc21 (2001) is her most recent publication. She teaches a graduate seminar on metadata and controlled vocabularies at the School of Information Studies of the University of California, Los Angeles.

Patricia Harpring, managing editor of the Getty Vocabulary Program, holds a Ph.D. in Art History from Indiana University and an M.A. from Syracuse University's Florence Fellowship program. A specialist in medieval and Renaissance art, Harpring is the author of The Sienese Trecento Painter Bartolo di Fredi (1992). With Murtha Baca, she co-edited a special double issue of Visual Resources (1996) that was devoted to Categories for the Description of Works of Art. She has published many articles and taught numerous workshops and seminars on thesaurus construction and on indexing and accessing art museum and cultural heritage information.

Colum Hourihane, director of the Index of Christian Art at Princeton University, holds a Ph.D. in Art History from London University. His publications include Virtue and Vice: The Personifications in the Index of Christian Art (2000); The Mason and His Mark: Masons' Marks in the Medieval Irish Archbishoprics of Cashel and Dublin (2000); and From Ireland Coming: Irish Art from the Early Christian to the Late Gothic Period and its European Context (2001). He is currently writing Enduring Vitality: Gothic Irish Art for Yale University Press.

Sara Shatford Layne is head of the Cataloging Division at the Science and Engineering Library of the University of California, Los Angeles. She holds an M.F.A. in Drama from Stanford University and worked for nine years as a theatrical costume designer before earning a Ph.D. in Library and Information Science from the University of California, Los Angeles. She has published articles on access to images and has worked as a consultant on several image cataloguing projects. Her Ph.D. dissertation is Modelling Relevance in Art History: Identifying Attributes that Determine the Relevance of Art Works, Images, and Primary Text to Art History Research (1998).

Christine L. Sundt, curator and professor of visual resources at the Architecture and Allied Arts Library of the University of Oregon, Eugene, holds an M.A. in Art History from the University of Wisconsin-Madison. She has been technology editor of Visual Resources: An International Journal of Documentation since 1985. She has written on topics covering preservation, new technologies, and copyright in visual resources, in addition to teaching workshops and consulting. Her most recent publication is "Visual Resources" in Simon Ford, ed., Information Sources in Art, Art History and Design (2001).
Press Reviews and Awards
"Recommended for professional reference collections." —Choice
"A handy little introduction to the questions surrounding image access." —Art Newspaper