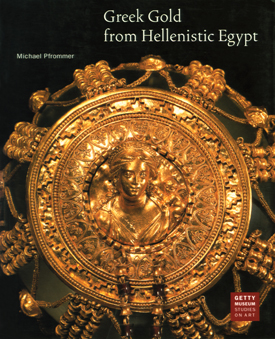 GETTY COLLECTIONS
Greek Gold from Hellenistic Egypt
Michael Pfrommer
2001
90 pages
PDF file size: 6.47 MB
Description
Because the true provenance of this splendid gold jewelry in the J. Paul Getty Museum is unknown, the mystery of exactly what it is must be solved. Why are these lovely ornaments called Greek gold? How do we know they must have been produced in Egypt during Hellenistic times, the period that coincides with the Ptolemaic dynasty? Was the owner simply a wealthy member of society? A member of the court? Or a priestess? The journey through three centuries, beginning about 350 B.C., takes us from the empire-building Alexander the Great to the beguilingly ambitious Kleopatra VII, along the way providing answers to those questions. This sweep through the turbulent history of the eastern Mediterranean gives a picture of the Greek-Egyptian blending of religion and art. Although much is left to the imagination, the basic facts do come to light, and the facets and surfaces of the Getty's golden treasure enrich us with new understanding.

Greek Gold from Hellenistic Egypt is part of the Getty Museum Studies on Art series, which is designed to introduce individual artworks or small groups of related works to a broad public with an interest in the history of art.

Each monograph is written by a leading scholar and features a close discussion of its subject as well as a detailed analysis of the broader historical and cultural context in which the work was created.
Table of Contents
Foreword Marion True
Map
Chronology
Introduction
The Jewelry
Alexander the Great: A New God in Egypt
Alexandria, a New City in an Old World
The God of Love as King of Egypt
Powerful Queens: From Arsino&eumlaut; II to Kleopatra VII
Religion: One Language for Two Civilizations
At the Brink of Disaster: The Golden Treasure in Its Historical Perspective
Bibliography
Ptolemaic Dynasty
Acknowledgments
About the Authors
Michael Pfrommer was for several years at the German Archaeological Institute in Istanbul and is now associate professor of classical archaeology at the University of Trier in Germany. His areas of specialty are Ptolemaic Egypt and Hellenistic jewelry and metalwork, about which he has published several monographs.