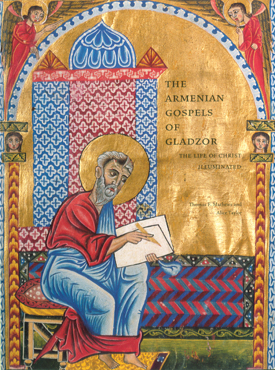 EXHIBITION CATALOGUE
The Armenian Gospels of Gladzor: The Life of Christ Illuminated
Thomas F. Mathews and Alice Taylor
2001
128 pages
PDF file size: 14.9 MB
Description
The magnificent book known as the Gladzor Gospels is a masterpiece of fourteenth-century Armenian art. Now at the Charles E. Young Research Library at the University of California, Los Angeles, it is one of the great Armenian manuscripts in an American collection.

Written and decorated in about 1300 by learned monks in the Armenian province of Siunik', the Gospel book offers significant insight into Armenian religious beliefs and practices of the time. The text—the four Gospel accounts of the life of Christ—is embellished by a remarkable program of brilliantly colored illumination that includes dozens of scenes from the life of Christ, as well as portraits of the text's saintly authors. The text's elaborate illumination also brings to life a vibrant artistic center, the Monastery of Gladzor, which long ago disappeared.

The Armenian Gospels of Gladzor includes sixty color reproductions of the manuscript's illuminated pages, ten black-and-white illustrations, and two maps, along with an essay that explores the book's richness and theological complexity.
Table of Contents
Map
Foreword
Deborah Gribbon
Preface
Thomas Kren
Chapter One: Making an Illuminated Manuscript
Chapter Two: Armenia under the Mongols
Chapter Three: The Life of Christ in Miniature
Chapter Four: Conclusion
Plates
Glossary
Suggestions for Further Reading
Index
About the Authors
Thomas F. Mathews is the John Langeloth Loeb Professor of the History of Art at the Institute of Fine Arts, New York University. His books include The Clash of Gods: A Reinterpretation of Early Christian Art (1993, revised 1999) and Byzantium: From Antiquity to the Renaissance (1998).

Alice Taylor is the Chair of the Humanities and Fine Arts Division at West Los Angeles College. Among her works is Book Arts of Isfahan, published by the J. Paul Getty Museum in 1995. In addition to Armenian medieval culture, her research involves the collection and display of Early Christian art, and eighteenth-century Russian visual culture.
Press Reviews and Awards
"Includes a fascinating section on the prominence of women in the pictures. The 60 full-page color illustrations are stunning." —Library Journal
"The color illustrations are superb and the text offers an excellent introduction to Armenian Gospel illustration." —Medieval Review