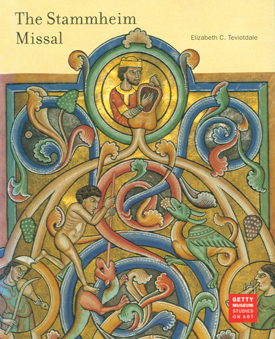 GETTY COLLECTIONS
The Stammheim Missal
Elizabeth C. Teviotdale
2001
100 pages
PDF file size: 20.6 MB
Description
The Stammheim Missal was relatively inaccessible until the Getty Museum acquired it in 1997. With this publication, in which all the major illumination is reproduced in color, both scholars and museum visitors can appreciate the missal more fully as one of the outstanding monuments of medieval art. Created in and for the north German monastery of Saint Michael at Hildesheim, the missal preserves the text and music of the abbey's religious ritual, and its illumination expresses fundamental Christian theology in visual form. Elizabeth C. Teviotdale elucidates the manuscript and its illumination within three traditions: the artistic heritage of the monastery, the illumination of Mass books, and the role of Jewish scripture in Christian art.

The Stammheim Missal is the first volume in the Getty Museum Studies on Art series to treat an illuminated manuscript. The series is designed to introduce individual artworks or small groups of related works to a broad public with an interest in the history of art.

Each monograph is written by a leading scholar and features a close discussion of its subject as well as a detailed analysis of the broader historical and cultural context in which the work was created.
Table of Contents
The Stammheim Missal and the Artistic Heritage of the Monastery of Saint Michael at Hildesheim
Observations on Early Medieval Mass Books and Their Illumination
Jewish Scripture in Christian Art of the Middle Ages
The Frontispiece Miniatures
The Feast Miniatures and Saints' Miniatures
The Pictorial Program
Summary Description of the Stammheim Missal
Glossary
Essential Bibliography
Acknowledgments
About the Authors
Elizabeth C. Teviotdale is Associate Curator of Manuscripts at the J. Paul Getty Museum and an Associate of the Center for Medieval and Renaissance Studies at the University of California, Los Angeles. She is one of the authors of Masterpieces of the J. Paul Getty Museum: Illuminated Manuscripts (1997).
Press Reviews and Awards
"An accessible, well-illustrated study. Sets a high standard for popular monographs on medieval manuscripts." —Apollo