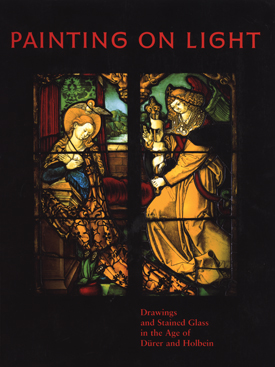 EXHIBITION CATALOGUE
Painting on Light: Drawings and Stained Glass in the Age of Durer and Holbein
Barbara Butts and Lee Hendrix, with the assistance of Scott C. Wolf
2000
328 pages
PDF file size: 55.7 MB
Description
The names Albrecht Dürer and Hans Holbein the Younger evoke the dazzling accomplishments of Renaissance panel painting and printmaking, but they may not summon images of stained glass. Nevertheless, Dürer, Holbein, and their southern German and Swiss contemporaries designed some of the most splendid works in the history of the medium. This lavish volume is a comprehensive survey of the contribution to stained glass made by these extraordinarily gifted draftsmen and the equally talented painters who rendered their compositions in glass.

Included are discussions of both monumental church windows and smaller-scale stained-glass panels made for cloisters, civic buildings, residences, and private chapels. The subjects of these rarely seen drawings and panels range from religious topics to secular themes, including love, planets, hunts, and battles.

Focusing on stained glass produced in Germany and Switzerland from about 1495 to 1530, Painting on Light includes drawings by Dürer, Holbein, Albrecht Altdorfer, Hans Baldung Grien, Jörg Breu the Elder, Hans Burgkmair, Urs Graf, Hans von Kulmbach, Hans Leu the Younger, Niklaus Manuel Deutsch, Hans Schäufelein, Hans Weiditz, and others. This informative book is published in conjunction with an exhibition at the Getty Museum from July 11 through September 24, 2000, and from November 7, 2000, to January 4, 2001, at the Saint Louis Art Museum.
Table of Contents
Foreword
Lenders to the Exhibition
Acknowledgments
Introduction
Drawn on Paper – Painted on Glass
Barbara Butts and Lee Hendrix
Monumental Stained Glass in Southern Germany in the Age of Dürer
Hartmut Scholz
In Honor of Friendship: Function, Meaning, and Iconography in Civic Stained-Glass Donations in Switzerland and Southern Germany
Barbara Giesicke and Mylène Ruoss
On the Artistic Technique of Glass Painting in the Age of Dürer and Holbein and Its Conservation Problems
Peter van Treeck
Precursors

The Master of the Housebook
Peter Hemmel von Andlau and the Strasbourg Workshop-Cooperative
The Master of the Coburg Roundels
Michael Wolgemut

Nuremberg

Albrecht Dürer
Hans Baldung Grien
Hans Leu the Younger
Hans von Kulmbach
Sebald Beham
Georg Pencz

Augsburg

Hans Holbein the Elder
Hans Schäufelein
Hans Burgkmair
Jörg Breu the Elder

Strasbourg and Freiburg

Hans Baldung Grien
Hans Weiditz

Regensburg
Bern

Hans Funk
Niklaus Manuel Deutsch

Zurich
Basel

Urs Graf
Antoni Glaser
Hans Holbein the Younger

List of References
Index
About the Authors
Barbara Butts is former curator of prints, drawings, and photographs at the Saint Louis Art Museum.

Lee Hendrix is curator of drawings at the Getty Museum.
Press Reviews and Awards
"A feast for the eyes as well as the intellect. This all-the-frills book is one to savor and save. Long after the exhibition is dismantled, you'll be revisiting, appreciating, studying and absorbing." —Stained Glass
"Stained glass is somewhat ephemeral owing to its very nature, [so] this attempt to catalog the contributions of artists who have worked in this medium is therefore all the more worthwhile." —Library Journal
"Packed with drawings and color examples ... in a unique, appealing presentation." —Midwest Book Review
"A sure bet to achieve classic status." —Nicholas A. Basbanes, syndicated columnist
"Butts and Hendrix chart a brilliant efflorescence in stained glass design and manufacture." —CAA Reviews
"This breathtaking book is an essential addition to the art lover's library." —Adventures