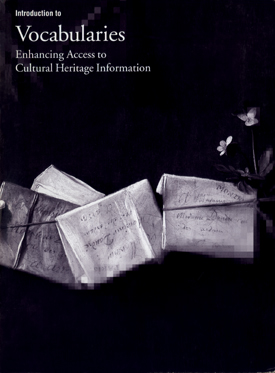 Introduction to Vocabularies: Enhancing Access to Cultural Heritage Information
Elisa Lanzi, with contributing editors Howard Besser, Joy Davis, Patricia Harpring, Christine L. Sundt, Helen R. Tibbo, Susanne R. Warren, Eleanor E. Fink, and David Green
1998
72 pages
PDF file size: 27.4 MB
Description
Digital networking will make our global cultural heritage accessible to a widespread audience. To reach this audience, it is essential to create and employ terminology that brings consistency to the language used in information retrieval contexts.

Introduction to Vocabularies highlights the crucial role that controlled vocabularies play in the description, cataloging, or documentation of cultural heritage information. The book stresses the importance of standards and the role of authority work in creating and managing vocabularies that would ensure integrated access. The book concludes with descriptions of three vocabulary databases developed by the Getty Information Institute.

The Introduction To series acquaints professionals and students with the complex issues and technologies in the production, management, and dissemination of cultural heritage information resources.
Table of Contents
Foreword
Introduction
A View from the Top: A Special Message for Administrators of Cultural Heritage Collections
David Green, Executive Director, National Initiative for a Networked Cultural Heritage
1. What Is Cultural Heritage and Why Is It Important?

What is Cultural Heritage?
Adding Value to Cultural Heritage: Interpretation, Analysis, and Access
Cultural Heritage Information: Ten Characteristics

2. Documentation: Analyzing and Recording Information

Different Approaches to Documentation
Vocabularies Are the Bridge
Documentation and the Web

3. Standards: What Role Do They Play?

Why Standards?
Standards for Improving Documentation: Data Standards
What Are the Benefits of Standards?

4. What, Why, and How of Vocabularies

Vocabularies as Knowledge Bases
Vocabularies: Types and Formats
The Role of Authority Work
Vocabulary Building

5. The Getty Vocabularies: An Introduction

The Art & Architecture Thesaurus
The Union List of Artist Names
The Getty Thesaurus of Geographic Names

6. Improving Access Using Vocabularies: Theory into Practice

Vocabularies as Search Assistants
Vocabularies in Image Databases
Vocabularies in Library Catalogs
Vocabularies in Archival Description and Cataloging
Vocabularies in Museum Documentation
Vocabularies in Indexes
Vocabulary Browsers
Multilingual Vocabularies

Resources

Acronyms and Abbreviations
Readings
Tools
About the Authors
Elisa Lanzi is an independent Consultant and former acting director of the Art & Architecture Thesaurus.