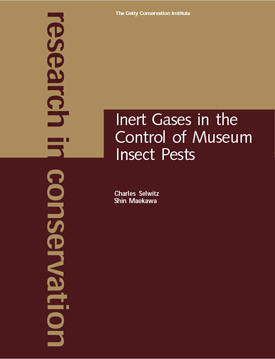 Inert Gases in the Control of Museum Insect Pests
Charles Selwitz and Shin Maekawa
1998
108 pages
PDF file size: 1.4 MB
Description
A serious problem facing museum professionals is the protection of collections from damage due to insects. This book describes successful insect eradication procedures developed at the Getty Conservation Institute and elsewhere, whereby objects are held in an atmosphere of either nitrogen or argon containing less than 1000 ppm of oxygen—a process known as anoxia—or in an atmosphere of more than 60 percent carbon dioxide.

Techniques, materials, and operating parameters are described in detail. The book also discusses adoption of this preservation technology, presenting the development of these methods and instructions for building and upgrading treatment systems, as well as recent case histories.

The Research in Conservation reference series presents the findings of research conducted by the Getty Conservation Institute and its individual and institutional research partners, as well as state-of-the-art reviews of conservation literature. Each volume covers a topic of current interest to conservators and conservation scientists.
Table of Contents
Foreword
Miguel Angel Corzo
Preface
Acknowledgments
Chapter 1: Mechanisms of Insect Mortality

Desiccation
Anoxia at High Humidities

Chapter 2: Anoxia as a Conservation Procedure

From Food Preservation to Conservation
Early Museum Anoxia Studies
Determining Kill Times
Thermal Techniques
Killing Burrowed Insects

Chapter 3: Methods and Materials

Barrier Films
Gas Supplies
Oxygen Scavengers
Closures

Heat Sealers
Zippers
Clamps
Adhesive Strips

Portals

Chapter 4: Operational Problems and Practices

Humidification
Argon versus Nitrogen
Monitors

Electronic Oxygen Monitors
Passive Oxygen Monitors
Carbon Dioxide Monitors
Relative Humidity Monitors

Temperature Sensors
Leak Detectors
Monitoring Life Signs
Safe Use of Nontoxic Fumigants

Chapter 5: Anoxia Treatment in Barrier-Film Bags

General Procedures
Conservators' Experience
Comments

Chapter 6: Anoxia Treatment in a Dynamic Mode

Treatment in Small Pouches
Treatment in Constructed Containments

Objects at the J. Paul Getty Museum
Back Seat Dodge '38
The Spanish Piano

Flexible Chambers

The Getty Barrier-Film Tent
The Small Rentokil Bubble
The Large Rentokil Bubble

Rigid Chambers

Homemade Containers
Vacufume Chambers

Effectiveness of Carbon Dioxide versus Nitrogen
Carbon Dioxide Fumigation Requirements
Treatment Experience in the United States

Old Sturbridge Village
The Winterthur Museum
Society for the Preservation of New England Antiquities
The Oakland Museum
The Smithsonian Institution

Treatment Experience in Canada

The National Museum of Science and Technology
The Canadian Museum of Civilization

Treatment Experience in Germany
About the Authors
Charles Selwitz joined the Gulf Research and Development Company in Harmarville, Pennsylvania, where he was director of synthetic chemistry until 1982. He is now an independent consultant but works primarily for the Getty Conservation Institute in such diverse areas as the preservation of earthen architecture by backfilling, the use of polymers for stone preservation, the stabilization of historic adobe with chemical consolidants, and the control of insect pests in museums by use of modified atmospheres.

Shin Maekawa is senior scientist in the Scientific Program at the Getty Conservation Institute, where he coordinates nitrogen anoxia projects. His research areas include nitrogen environments for long-term storage and display of artifacts, disinfestation of museum object, performance evaluation and design of storage and display cases, and monitoring and control of the environments and microenvironments of artifacts. He is a registered professional engineer (P.E. Mechanical) in the state of California.
Press Reviews and Awards
"A very useful tool for understanding an important and rapidly evolving approach to pest management." —Journal of the American Institute for Conservation
"Case studies are extremely useful." —Conservation News