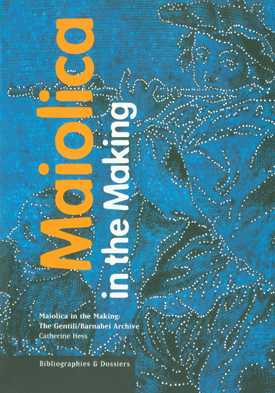 Maiolica in the Making: The Gentili/Barnabei Archive
Catherine Hess
1999
196 pages
PDF file size: 59.3 MB
Description
Colorful, spatially illusionistic, and intellectually intricate, the maiolica created by the Italian potters of Castelli during the seventeenth and eighteenth centuries constitutes a final, supremely pictorial phase of this tin-glazed earthenware art. The Gentili/Barnabei archive at the Getty Research Institute affords a rare glimpse into the workshops that produced these wares. Maiolica in the Making not only documents the drawings, engravings, transfer patterns, letters, and other papers preserved in this unusual archive but also discusses their significance for the history of ceramics.

As the tattered sheets of paper preserved in the Gentili/Barnabei archive attest, the ceramists working in Castelli during the seventeenth and eighteenth centuries were inspired by a rich admixture of religious and classical imagery, economic expediency, and local knowledge. In this archive, an engraving of a young flutist in a tricorne accompanies a print of Neptune plotting the destruction of man. Sketches of putti and satyrs coexist with drawings of saints and Madonnas. The pinpricked outline of a warrior on horseback traverses a potter's letter. Poems and inventories are interleaved with sheets bearing elaborate scrolls, mysterious decorative elements, unidentified coats of arms, and the four oldest pricked cartoons for ceramic decoration known to be in existence. Maiolica in the Making describes the varied materials in this remarkable archive and explores what they imply about the use of design sources in the early ceramic workshops of Italy.

The Bibliographies & Dossiers series is designed to provide information about the primary materials held by the Getty Research Institute for the History of Art and the Humanities. These materials range from the fourteenth century to the present and constitute a resource for the study of all major periods of European history. The Research Institute expanded the geographic reach of its collecting to include areas such as North and South America, the ancient Near East, and the Islamic world. Among the diverse holdings are rare books, architectural drawings, original correspondence and other manuscripts, photographs, artists' sketchbooks, and the archives of scholars, critics, artists, and galleries.

The volumes in the series will include annotated bibliographies and short compilations of visual and textual materials that describe and analyze significant groupings of material in the Research Institute's collections. Compiled by scholars from the Research Institute and the international academic community, the publications will be significant research tools for students and scholars in a variety of disciplines. The editors are Julia Bloomfield, Harry F. Mallgrave, JoAnne C. Paradise, Thomas F. Reese, and Salvatore Settis.
Table of Contents
Acknowledgments
Maiolica in the Making: The Gentili/Barnabei Archive
Catalog of the Gentili/Barnabei Archive
Plates
Works Cited
Illustration Credits
Index
About the Authors
Catherine Hess is associate curator of sculpture and works of art at the J. Paul Getty Museum. A specialist in the decorative arts, she has lectured on subjects ranging from mannerist ceramics to Italian furniture to the history of collecting in Europe.
Press Reviews and Awards
"This remarkable little book should be essential reading not just for students of Italian maiolica, but also for anyone interested in the transfer of images—most often, but not exclusively, in the form of prints—in the decorative arts." —Apollo