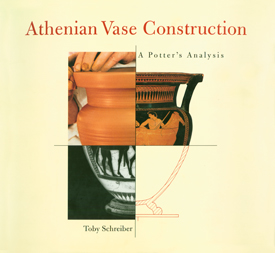 Athenian Vase Construction: A Potter's Analysis
Toby Schreiber
1999
312 pages
PDF file size: 183 MB
Description
Modern studies of ancient Greek vases have most often focused on the iconography of the painted images. Yet we know that in antiquity the potting of the vases was held in at least as much esteem as the painting, and sometimes potters proudly signed their wares. This book analyzes the construction methods used by Attic potters in the forming of their vases.

Based on her study of Greek pottery sherds and vases and on her profound hands-on knowledge of pottery construction techniques, including experiments with the potting of Attic shapes, Toby Schreiber describes how ancient Greek potters constructed their vases. Drawn in large part from vases and fragments in the collection of the Getty Museum, the many photographs that accompany the text show how much even seemingly insignificant sherds may reveal about technique when studied by someone knowledgeable about potting. The drawings—all done by the author—demonstrate step by step with admirable clarity how the potter executed his craft.

The in-depth look at the techniques of pottery-construction techniques presented in this book is bound to increase modern admiration for the abilities of ancient Greek potters.

Written by a master potter, this is a book both for those who know little or nothing about potting techniques and for those who already have an understanding of these matters.
Table of Contents
Foreword
Marion True
Preface
Toby Schreiber
Acknowledgments
Part 1: The Basics

Introduction

Steps in Producing a Decorated Athenian Vase

1. Clay: Origin, Composition, Properties, Purification
2. Forming and Techniques

Wedging
The Potter's Wheel
Tools
Throwing
Turning
Appendages
Leather-hard
Slip
Moldmade Pottery

3. A Modern Greek Family-run Pottery Shop
4. Surface Treatment

Rib Smoothing
Burnishing
Miltos
Stroking

5. Greek Gloss and Firing
6. Flaws and Defects

Air Pockets
Cracks
Spalls
Dents
Miscellaneous

Part 2: The Vases

Introduction
7. Alabastron

Round-bottomed Alabastron
Footed Alabastron

8. Amphora

Neck-amphora
Types A, B, or C Amphora
Panathenaic Amphora

9. Aryballos

Wheel-made Aryballos
Moldmade Aryballos

10. Askos

Wheel-made Askos
Moldmade Askos

11. Dinos
12. Exaleiptron (Kothon)
13. Fish Plate

Attic Fish Plate
South Italian Fish Plate

14. Hydria

Kalpis (Continuous-Curve Hydria)

15. Kantharos
16. Krater

Column-Krater
Volute-Krater
Calyx-Krater
Bell-Krater

17. Kyathos
18. Kylix
19. Lebes Gamikos

Low-footed Lebes Gamikos
Lebes Gamikos on Stand

20. Lekythos

Squat Lekythos
Lekythos with Inner Oil Cup
Huge Lekythos

21. Loutrophoros
22. Mastos
23. Oinochoe

Olpe (Shape 5)
Chous (Shape 3)
Oinochoai with Offset Neck (Shapes 1 and 2)
Beak-mouthed Oinochoai (Shapes 6, 7, and 10)

24. Pelike

Pelike in Sections
Pelike in One Piece

25. Phiale

Phiale in One Piece
Phiale in Sections

26. Psykter
27. Pyxis

Tripod Pyxis
Type A Pyxis
Type C Pyxis
Type B Pyxis
Powder-box Pyxis
Type D Pyxis
Nikosthenic Pyxis

28. Rhyton
29. Skyphos
30. Stamnos

Appendixes

1. Silhouettes of Vase Shapes
2. Terminology
3. Mouth Types
4. Foot Types
5. Handle Types

Abbreviations
Notes
Glossary
Bibliography
Plate Credits
Figure Credits
Index
About the Authors
Toby Schreiber is a master potter who became fascinated with the construction techniques used by the potters who created the classic Greek vases. An art graduate of Cornell College with a major in ceramics, she spent years creating and selling her pottery. In the mid-1970s, after the Getty Museum had been built only a few miles from her seaside studio in Malibu, California, she became associated with the Museum as a gallery teacher, and she had the opportunity to see and examine the Museum's collection of Greek vases and their fragments. She soon realized that there was a need for a seasoned potter to analyze systematically the construction techniques used in the creation of these magnificent pieces. She therefore gradually tapered off her own creative work and spent more time analyzing her study objects, publishing several articles along the way. While the majority of her research was done at the Getty Museum, she also pursued her project in major museums all over the world. She participates in Getty Museum educational projects, helping conduct workshops, making videos demonstrating potting techniques, and working as a gallery teacher. Her enthusiasm, talent, analytical prowess, technical knowledge, and love of her subject are all reflected in the text and illustrations she has created for this book.
Press Reviews and Awards
"This is an excellent book that only a practicing potter could write. It gives us detailed insight into the practical procedures of forming pottery on the potter's wheel in ancient times in Athens, as well as today. Hundreds of photographs and drawings illustrate every step." —Joseph Veach Noble, Former Vice Director, The Metropolitan Museum of Art; President Emeritus, American Association of Museums
"This is a fascinating book. The author brings to her subject a unique combination: practical experience as an accomplished potter and scholarly expertise in the field of Greek vases. Profusely illustrated with detailed photographs and elegant drawings, this handsome volume will be the standard reference for the craft of ancient Athenian pottery for a good long while to come." —Mary B. Moore, Professor of Art History, Hunter College, CUNY