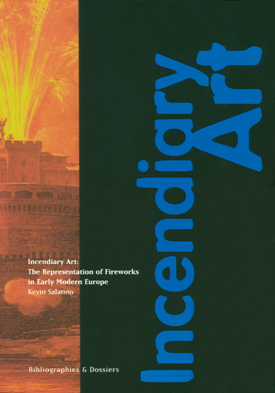 Incendiary Art: The Representation of Fireworks in Early Modern Europe
Kevin Salatino
1997
120 pages
PDF file size: 30.8 MB
Description
Fireworks are intrinsically fleeting, transitory, fugitive. Their power lies in the brutality of their transience: dying the instant of their birth, consumed in the act of consummation. There is something ironic, even poignant, then, in the attempt to render permanent through the medium of art a phenomenon as ephemeral as fireworks. Drawing upon the Getty Research Institute's extensive collections of early modern European festival material, Incendiary Art explores the vivid imagery of fireworks spectacles produced in Europe from the sixteenth to the early nineteenth centuries.

Concentrating more on the records of these events than on the events themselves, Incendiary Art examines these images as vehicles of meaning within the larger context of European culture and politics, without losing sight of their status as artifacts with an independent aesthetic life. Incendiary Art examines pyrotechnics within categories ranging from the theory of the sublime, to politics, erotics, aesthetics, and volcano lust.

The Bibliographies & Dossiers series is designed to provide information about the primary materials held by the Getty Research Institute for the History of Art and the Humanities. These materials range from the fourteenth century to the present and constitute a resource for the study of all major periods of European history. The Research Institute expanded the geographic reach of its collecting to include areas such as North and South America, the ancient Near East, and the Islamic world. Among the diverse holdings are rare books, architectural drawings, original correspondence and other manuscripts, photographs, artists' sketchbooks, and the archives of scholars, critics, artists, and galleries.

The volumes in the series will include annotated bibliographies and short compilations of visual and textual materials that describe and analyze significant groupings of material in the Research Institute's collections. Compiled by scholars from the Research Institute and the international academic community, the publications will be significant research tools for students and scholars in a variety of disciplines. The editors are Julia Bloomfield, Harry F. Mallgrave, JoAnne C. Paradise, Thomas F. Reese, and Salvatore Settis.
Table of Contents
Foreword
Acknowledgments
Part I. The Culture of Fireworks
Part II. Fireworks and the Sublime
Plates
Notes
Selected Bibliography
About the Authors
Kevin Salatino has taught in the art history departments of Middlebury College and the University of Pennsylvania. He is currently Collections Curator, Graphic Arts, at the Getty Research Institute. In this capacity he has augmented the collections of prints and drawings with a special emphasis on architectural and ornamental prints and drawings and fifteenth- to nineteenth-century festival materials.
Press Reviews and Awards
"A brilliant catalog." —New Republic
"Essential for anyone writing on firework prints." —Print Quarterly