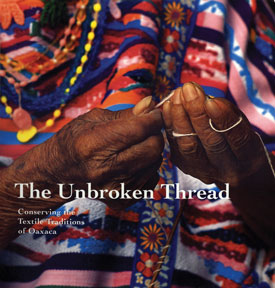 The Unbroken Thread: Conserving the Textile Traditions of Oaxaca
Edited by Kathryn Klein
1997
176 pages
PDF file size: 27.6 MB
Description
Housed in the former 16th-century convent of Santo Domingo church, now the Regional Museum of Oaxaca, Mexico, is an important collection of textiles representing the area's indigenous cultures. The collection includes a wealth of exquisitely made traditional weavings, many that are now considered rare. The Unbroken Thread: Conserving the Textile Traditions of Oaxaca details a joint project of the Getty Conservation Institute and the National Institute of Anthropology and History (INAH) of Mexico to conserve the collection and to document current use of textile traditions in daily life and ceremony.
The book contains 145 color photographs of the valuable textiles in the collection, as well as images of local weavers and project participants at work. Subjects include anthropological research, ancient and present-day weaving techniques, analyses of natural dyestuffs, and discussions of the ethical and practical considerations involved in working in Latin America to conserve the materials and practices of living cultures.
Table of Contents
Foreword, Eduardo López Calzada
Preface, Miguel Angel Corzo
Project Participants
Conservation and Cultural Identity, Kathryn Klein
Preventative Textile Conservation in Latin America, Kathryn Klein
Practicing Textile Conservation in Oaxaca, Sharon K. Shore
The Analysis of Dyestuffs on Historical Textiles from Mexico, Arie Wallert
Threads of Diversity: Oaxacan Textiles in Context, Alejandro de Avila B.
Afterword, Kathryn Klein
About the Authors
Map of Oaxaca
About the Author
Kathryn Klein is a specialist in Latin American art history and the conservation of anthropological materials and living cultural traditions.
Additional Languages