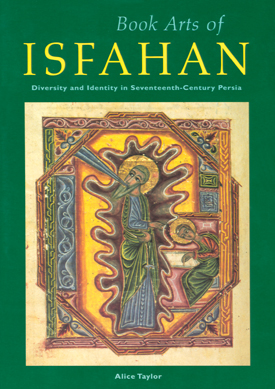 EXHIBITION CATALOGUE
Book Arts of Isfahan: Diversity and Identity in Seventeenth-Century Persia
Alice Taylor
1995
100 pages
PDF file size: 8.76 MB
Description
In the seventeenth century, the Persian city of Isfahan was a crossroads of international trade and diplomacy. Manuscript paintings produced within the city's various cultural, religious, and ethnic groups reveal the vibrant artistic legacy of the Safavid Empire.

Published to coincide with an exhibition at the Getty Museum, Book Arts of Isfahan offers a fascinating account of the ways in which the artists of Isfahan used their art to record the life around them and at the same time define their own identities within a complex society.
Table of Contents
Reference Map
Foreword
John Walsh
Preface and Acknowledgments
Alice Taylor
Isfahan and Its Peoples, 1597–1722: An Historical Overview
Contemplating the Other: "Isfahan Style" Miniatures
Imagining a Persian Community: Judeo Persian Illustrated Manuscripts
The Place of Memory: Armenian Manuscript Illumination
Importing Europe: Armenian Printed Books
Conclusions
Index
About the Authors
Alice Taylor is the Chair of the Humanities and Fine Arts Division at West Los Angeles College. In addition to Armenian medieval culture, her research involves the collection and display of Early Christian art, and eighteenth-century Russian visual culture.