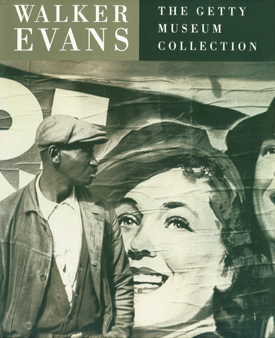 GETTY COLLECTIONS
Walker Evans: Catalogue of the Collection
Judith Keller
1995
416 pages
PDF file size: 258 MB
Description
Walker Evans is widely recognized as one of the greatest American photographers of the twentieth century, and the J. Paul Getty Museum owns one of the most comprehensive collections of his work, including more of his vintage prints than any other museum in the world. This lavishly illustrated volume brings together for the first time all of the Museum's Walker Evans holdings.

Included here are familiar images—such as Evans's photographs of tenant farmers and their families, made in the 1930s and later published in Let Us Now Praise Famous Men—and images that are much less familiar—such as the photographs Evans made in the 1940s of the winter quarters of the Ringling Brothers circus, or his very late Polaroids, made in the 1970s. In addition, many previously unpublished Evans photographs, and variant croppings of classic images, appear here for the first time.

Author Judith Keller has written a lively, informative text that places these photographs in the larger context of Evans's life and career and the culture—especially the popular culture—of the time. In so doing, she has produced an indispensible volume for anyone interested in the history of photography or American culture in the twentieth century.

Also included is the most comprehensive bibliography on Walker Evans published to date.
Table of Contents
Foreword
John Walsh
Preface and Acknowledgments
Judith Keller
Notes to the Reader Stamps and Labels List of Abbreviations
Walker Evans: A Chronology
1926–1934

Circa 1930: New York and New England
Cuba

1935–1938

African Negro Art
American Photographs: Evans in Middletown

1938–1941

The Making of Many Are Called
The Wheaton College Commission
On the West Coast of Florida

1941–1955

At Fortune
Faulkner Country

1958–1974

The Polaroids and Other Work

Appendixes

A. Walker Evans Ephemera in the Getty Collection
B. American Photographs and the Getty Collection
C. Selected One-Person and Group Exhibitions

A Selected Walker Evans Bibliography
Index
About the Authors
Judith Keller is Associate Curator of Photographs at the J. Paul Getty Museum.
Press Reviews and Awards
"Everything … a scholar or connoisseur would want to learn can be found here." —New York Times Book Review
"Every library with collections on the history of photography or contemporary photography should acquire this book; it cannot be recommended too highly." —Library Journal