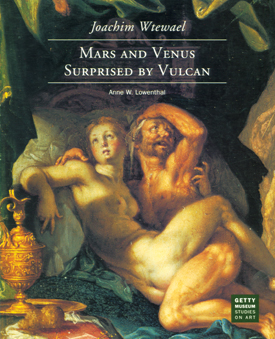 GETTY COLLECTIONS
Joachim Wtewael: Mars and Venus Surprised by Vulcan
Anne W. Lowenthal
1995
94 pages
PDF file size: 14.3 MB
Description
The Dutch history painter Joachim Wtewael is widely admired for his astonishing small paintings on copper. The Getty Museum's Mars and Venus Surprised by Vulcan is one of his finest works in this unusually demanding medium. Though only eight inches high, this Mannerist painting contains eleven figures in three different spaces, captured in a dramatically charged moment from the famous story told by Ovid in his Metamorphoses.

The author's detailed analysis of Wtewael's painting also serves as a fine introduction to Dutch art of the Golden Age. Illustrated with seventy reproductions of paintings, drawings, etchings, and decorative objects, Anne W. Lowenthal's study ranges over the broad historical and cultural context in which Mars and Venus was created.

Joachim Wtewael: Mars and Venus Surprised by Vulcan is part of the Getty Museum Studies on Art series, designed to introduce individual works of art or small groups of related works to a broad public with an interest in the history of art.

Each monograph is written by a leading scholar and features a close discussion of its subject as well as a detailed analysis of the broader historical and cultural context in which the work was created.
Table of Contents
Telling the Tale
The Historical Niche
Variations
Vicissitudes
Notes
Selected Bibliography
Acknowledgments
About the Authors
Anne W. Lowenthal is the author of Joachim Wtewael and Dutch Mannerism. She has taught at Barnard College, Columbia University, and Hunter College and is a founding member and past president of the Historians of Netherlandish Art.