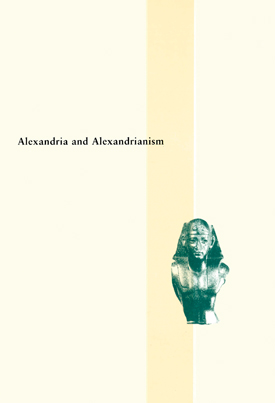 Alexandria and Alexandrianism
Edited by Kenneth Hamma
1996
256 pages
PDF file size: 24.0 MB
Description
One of the great seats of learning and repositories of knowledge in the ancient world, Alexandria, and the great school of thought to which it gave its name, made a vital contribution to the development of intellectual and cultural heritage in the Occidental world. This book brings together twenty papers delivered at a symposium held at the J. Paul Getty Museum on the subject of Alexandria and Alexandrianism. Subjects range from "The Library of Alexandria and Ancient Egyptian Learning" and "Alexander's Alexandria" to "Alexandria and the Origins of Baroque Architecture."

With nearly two hundred illustrations, this handsome volume presents some of the world's leading scholars on the continuing influence and fascination of this great city. The distinguished contributors include Peter Green, R. R. R. Smith, and the late Bernard Bothmer.
Table of Contents
Foreword
John Walsh and Thomas F. Reese
INTRODUCTION

Alexander's Alexandria
Peter Green

THE CITY OF ALEXANDRIA IN THE HELLENISTIC PERIOD

Egyptian Influence on Daily Life in Ancient Alexandria
Henri Riad
"All Army Boots and Uniforms?": Ethnicity in Ptolemaic Egypt
Diana Delia
City Planning?
Gunter Grimm
Cults in Hellenistic Alexandria
Lilly Kahil
Body and Machine: Interactions between Medicine, Mechanics, and Philosophy in Early Alexandria
Heinrich von Staden

ARTS OF HELLENISTIC ALEXANDRIA: GREEK AND EGYPTIAN CONTRIBUTIONS

Alexandria and the Origins of Baroque Architecture
Judith McKenzie
From the Double Crown to the Double Pediment
John Onians
From Hellenistic Polychromy of Sculptures to Roman Mosaics
W. A. Daszewski
Ein spatromischer bemalter Sarg aus Agypten im J. Paul Getty Museum
Klaus Parlasca
Roots and Contacts: Aspects of Alexandrian Craftsmanship
Michael Pfrommer
Pharaonic Egyptian Elements in the Decorative Arts of Alexandria during the Hellenistic and Roman Periods
Robert Steven Bianchi
Ptolemaic Portraits: Alexandrian Types, Egyptian Versions
R. R. R. Smith
Hellenistic Elements in Egyptian Sculpture of the Ptolemaic Period Bernard V. Bothmer
The Alexandrian Style: A Mirage?
Andrew Stewart
Is There an Alexandrian Style-What Is Egyptian about It?
Arielle P. Kozloff

THE CONTINUING INFLUENCE OF ALEXANDRIA

Late Antique Alexandria
G. W. Bowersock
Medieval Alexandria: Some Evidence from the Cairo Genizah Documents
Abraham L. Udovitch
Alexandrian Culture in Modern Times: Egyptian Identity and Cosmopolitan Aspects
Mohamed Ghoneim

Reigns of the Ptolemies
Map of early Ptolemaic Alexandria
About the Authors
Kenneth Hamma is associate curator of antiquities at the J. Paul Getty Museum.