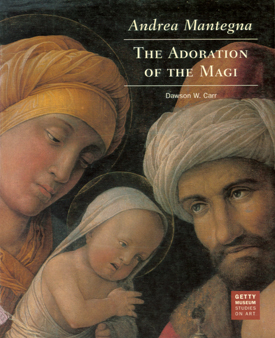 GETTY COLLECTIONS
Andrea Mantegna: Adoration of the Magi
Dawson W. Carr
1997
106 pages
PDF file size: 8.47 MB
Description
Andrea Mantegna's Adoration of the Magi is based on one of Christianity's best loved stories: the arrival of the gift-bearing Wise Men at the baby Jesus' birthplace in Bethlehem. While the simple Bible text is usually depicted with sweeping, exotic pageantry, here the subject is rendered with an intimate, close-up focus on the central characters in the scene. In his fascinating study, author Dawson W. Carr examines Mantegna's innovative treatment of the theme in light of the main concerns of his art and the culture of his time. His generously illustrated and detailed analysis provides a clear understanding of this compelling masterpiece, which is one of the most popular and important paintings in the J. Paul Getty Museum.

Andrea Mantegna: The Adoration of the Magi is part of the Getty Museum Studies on Art series, designed to introduce individual artworks or small groups of related works to a broad public with an interest in the history of art.

Each monograph is written by a leading scholar and features a close discussion of its subject as well as a detailed analysis of the broader historical and cultural context in which the work was created.
Table of Contents
Introduction
Mantegna's Work and World
Mantegna and Devotional Painting
The Magi: Texts and Images
The Compositional Innovation
Reading The Adoration of the Magi
Notes
Acknowledgments
About the Authors
Dawson W. Carr is Associate Curator of Paintings at the J. Paul Getty Museum and one of the authors of Masterpieces of the J. Paul Getty Museum: Paintings (1997) and Looking at Paintings: A Guide to Technical Terms (1992).