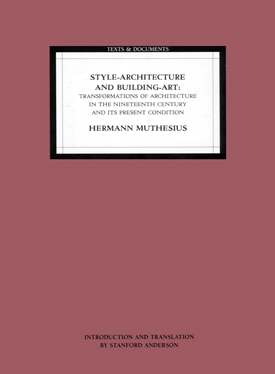 Style-Architecture and Building-Art: Transformations of Architecture in the Nineteenth Century and Its Present Condition
Hermann Muthesius
Introduction and translation by Stanford Anderson
1994
144 pages
PDF file size: 8.69 MB
Description
Although Hermann Muthesius is best known today in Anglo-American architectural literature for his studies of the English house, these impressive volumes were only one aspect of a more encompassing modernist polemic emanating from the German realist movement of the late 1890s. Style-Architecture and Building-Art, published in 1902, was Muthesius's first serious effort to define the lineaments of early Modernism. A turn-of-the-century retrospective, it contains nearly all of the assumptions—good and bad—of later modernist historiography: the disdain of the nineteenth century for its artistic eclecticism and lack of originality; an appreciation of the material and industrial forces propelling the upheaval in building technologies; and, above all, a plea for a more sachlich (plain, simple) approach to design. This critical and highly opinionated text not only presages and underscores the tenets of the Deutsche Werkbund (founded five years later) but can itself be viewed as an important cornerstone of the Modern Movement.

The Texts & Documents series offers to the student of art, architecture, and aesthetics neglected, forgotten, or unavailable writings in English translation.

Edited according to modern standards of scholarship and framed by critical introductions and commentaries, these volumes gradually mine the past centuries for studies that retain their significance in our understanding of art and of the issues surrounding its production, reception, and interpretation.

Eminent scholars assist in the selection and publication of volumes in the Texts & Documents series. Each volume acquaints readers with the broader cultural conditions at the genesis of the text and equips them with the needed apparatus for its study. Over time the series will greatly expand our horizon and deepen our understanding of critical thinking on art.
Table of Contents
Acknowledgments
Introduction
Stanford Anderson
Style-Architecture and Building-Art: Transformations of Architecture in the Nineteenth Century and Its Present Condition
Hermann Muthesius
Bibliography
Index
About the Authors
Stanford Anderson has written and lectured widely on the historiography of modern architecture and urbanism. He is the head of the Department of Architecture at the Massachusetts Institute of Technology.
Press Reviews and Awards
"Your production of the Muthesius book was indeed timely. I, too, believe that the craft, the hands on, and the 'making' of forms and space, gives the human feeling, touch and emotion to a building. It was gratifying to read that somebody else had thought about that a long time ago. I thank you for this book series. Each one is more relevant than the last." — Frank Gehry, architect