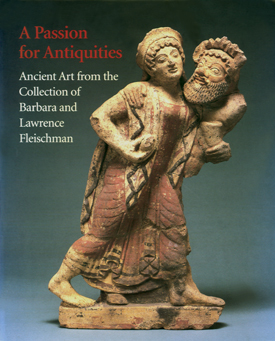 EXHIBITION CATALOGUE
A Passion for Antiquities: Ancient Art from the Collection of Barbara and Lawrence Fleischman
1994
368 pages
PDF file size: 39.3 MB
Description
The collection of Barbara and Lawrence Fleischman of New York is one of the most important private collections of ancient Greek and Roman art in the United States and among the most important in the world. Composed of approximately three hundred objects from the Bronze Age to the Late Antique, it includes bronze statuettes, marble sculpture, vases, jewelry, lamps and candelabra, keys, weights, and silver bowls and utensils.

The Fleischmans have a particular fascination with pieces associated with everyday life in antiquity, since these objects evoke a human connection to the past. They are also drawn to pieces that exemplify the human propensity to transform a functional object into a thing of beauty. Not only has their emotional response to an object's aesthetic appeal or its historical significance guided them in their forty years of collecting, personal interests have been at work as well. The large number of pieces related to the theater or representing theatrical subjects reflects Barbara Fleischman's lifelong love of that art.

A Passion for Antiquities contains photographs and extensive catalogue entries on the objects included in the exhibition at the J. Paul Getty Museum and the Cleveland Museum of Art. Eighteen contributors provide art historical and descriptive information about each piece. The objects not selected for the exhibition are detailed in a checklist that specifies their origins, dates, media, and sizes.

This book is the first major reference on the entire collection, since most of the objects have never before been publicly shown. To facilitate finding specific objects or groups of objects, the book is organized first chronologically and then by medium. Bibliographic sources for each entry cite both publications where the specific work is discussed as well as references to related scholarship. Karol Wight provides a chronological overview of the collection, and Oliver Taplin relates selected pieces to the development of Greek theater.

The exhibition of Barbara and Lawrence Fleischman's collection and this catalogue allow us to enter into their minds and emotions so that, for a time, we can share their passion for antiquities.
Table of Contents
Foreword
John Walsh and Robert Bergman
Preface
Barbara and Lawrence Fleishman
Barbara and Lawrence Fleischman: Guardians of the Past
Marion True and Arielle Kozloff
Chronological Overview of the Fleischman Collection
Karol Wight
The Beauty of the Ugly: Reflections of Comedy in the Fleischman Collections
Oliver Taplin
Reference Map
Abbreviations
Note to the Reader
Catalogue of the Exhibition

Greece in the Bronze Age
Greece from the Geometric Period to the Late Classical
The Western Greek Colonies in South Italy and Sicily
Etruria
The Hellenistic World after the Death of Alexander
Rome and the Providences from the Republic to the Late Antique

Checklist of Objects in the Fleischman Collection Not Included in the Exhibition
Glossary of Frequently Cited Terms