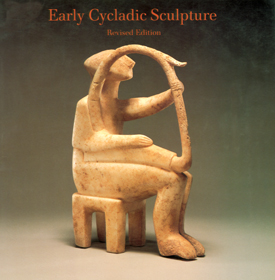 Early Cycladic Sculpture: An Introduction, 2nd Edition
Pat Getz-Preziosi
1994
100 pages
PDF file size: 6.29 MB
Description
First published in 1985, this ground-breaking book surveys the development of Cycladic sculpture produced by unidentified artists who worked in the Aegean islands forty-five hundred years ago. Illustrated with numerous objects from American collections—with particular emphasis on some two dozen pieces in the Getty Museum—this volume surveys the typological development of Early Cycladic sculpture and identifies, where possible, the work of individual sculptors. Newly revised and updated, this book is a concise introduction to the field.
Table of Contents
Foreword
Preface
Preface to the First Edition
Introduction
Color Plates
The Stone Vases
The Figurative Sculpture
The Formulaic Tradition
The Individual Sculptor
The Karlsruhe/Woodner Master
The Goulandris Master
The Ashmolean Master
The Distribution of the Figures
Beyond the Cyclades
Major Collections of Early Cycladic Sculpture
Selected Bibliography
Photo Credits
About the Authors
Pat Getz-Preziosi is the author of Sculptors of the Cyclades: Individual and Tradition in the Third Millennium B.C. (1987) and Early Cycladic Art in North American Collections (1987).