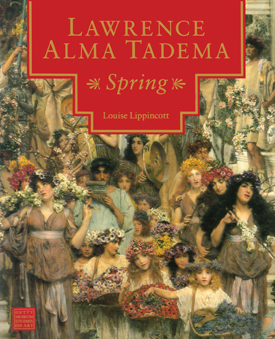 GETTY COLLECTIONS
Lawrence Alma Tadema: Spring
Louise Lippincott
1990
102 pages
PDF file size: 9.23 MB
Description
The works of the late Victorian painter Lawrence Alma Tadema have recently enjoyed a revived interest. This second volume in the Getty Museum Studies on Art series focuses on Spring, one of Alma Tadema's most renowned paintings. The author traces the history of the painting and provides an analysis of its sources, composition, and symbolism. The book is lavishly illustrated and includes many details from the painting.

The Getty Museum Studies on Art seek to introduce individual works of note or small groups of closely related works to a broad public with an interest in the history of art and related disciplines.

Each monograph features a close discussion of its subject as well as a detailed analysis of the broader context in which the work was created, considering relevant historical, cultural, chronological, and other questions.
Table of Contents
Alma Tadema and Spring
Spring's Festival
The Importance of Details
Art and Empire
Notes
Selected Bibliography
Acknowledgments
About the Authors
Louise Lippincott is curator of fine arts at the Carnegie Institute in Pittsburgh. She is author of Edvard Munch: Starry Night, another volume in the Getty Museum Studies on Art series.