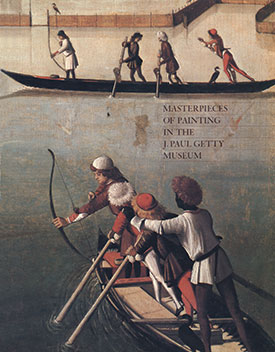 GETTY COLLECTIONS
Masterpieces of Painting in the J. Paul Getty Museum (First Edition)
Burton B. Fredericksen
116
1980
pages
PDF file size: 17.9 MB
Description
J. Paul Getty began collecting Old Master paintings in the 1930s. He founded his Malibu museum in the early 1950s and continued to contribute to its collections until his death. As he left the museum generously endowed, major works of art have continued to be acquired.

Mr. Getty's personal preferences inclined toward Renaissance and Baroque painting of the Italian and Netherlandish schools, with some excursions into the art movements of the eighteenth and nineteenth centuries. The masterpieces reproduced here show the care which he and the museum trustees have devoted to the formation of a new museum's collection.

The J. Paul Getty Museum's new building was opened to the public in January 1974. It is a replica of the Villa dei Papiri excavated at Herculaneum and provides a spectacular setting for the collection of classical antiquities. The paintings collection is housed in more conventional galleries on the second floor.
Table of Contents
Italian Renaissance and Baroque Paintings of the 14th–17th centuries:
Daddi, Gentile, Masaccio, Vivarini, Carpaccio, Master Of The Lathrop Tondo, Raphael, Ferrari, Bacchiacca, Veronese, Lotto, Lanfranco, Castiglione, Dolci, Rosa, Ricci, Canaletto, Magnasco
Dutch and Flemish Paintings of the 15th–17th centuries:
Ban Der Weyden, Master Of The St. Bartholomew Altar, Master Of The Parlement De Paris, Van Orley, Mor, Van Dyck, Honthorst, Eliasz., Kalf, Claez., Lievensz., Rembrant, Gelder, Berchem, Steen, Sweerts
French and English Paintings of the 17th–19th centuries:
De La Tour, Poussin, Vouet, Largillière, Nattier, Aved, Boucher, Gainsborough, Millais, Alma-Adema
About the Authors
Mr. Fredericksen is curator of paintings at the J. Paul Getty Museum.