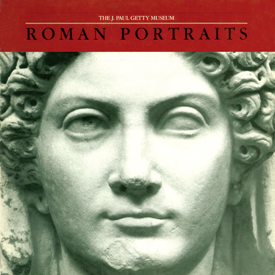 GETTY COLLECTIONS
Roman Portraits in the Getty Museum
Jiří Frel
1981
144 pages
PDF file size: 11.4 MB
Description
Portraits, sometimes crude in their realism or gripping in the sense of a living person, were one of the great achievements of Roman Art. The collection of one hundred portraits in the Getty Museum is one of the largest in the world. Dr. Frel surveys the history of Roman portrait art in an often controversial introduction on the purpose of portraits in Roman life and society, continuing his arguments through the catalogue analyses of the individual pieces. The occasion for the book was a loan exhibition of the portraits to the Philbrook Art Center in Tulsa.

This lavishly illustrated book presents a discussion of the principal views and the uses of the portrait in ancient times. The photographs include unusual views of the back and profiles of many portraits to show the care with which they were created and their damage and reworking over the centuries. The catalogue also includes five portraits that are late evocations of the antique and outright forgeries.
Table of Contents
Preface: Mr. Getty's Romans
Introduction: Roman Portraits
CATALOGUE

The Greek Tradition
Julius Caesar
The Tradition of the Republic
Augustus and his Family
Later Julio-Claudians
Flavian Realism
Seven Female Heads
Hadrianic Classicism
Sarcophagi
Antonine Portraits
Provincials
Late Antonine Portraits
Severan Portraits
The Soldier Emperors
Dubia
Spuria
Supplementary Information on catalogue entries
Abbreviations
Index by accession numbers
About the Authors
Jiří Frel is curator of antiquities at the J. Paul Getty Museum.