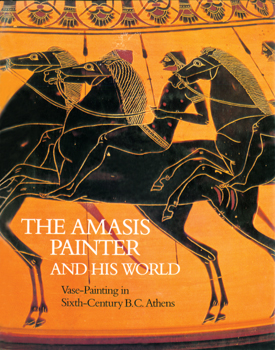 EXHIBITION CATALOGUE
The Amasis Painter and His World: Vase Painting in Sixth-Century B.C. Athens
Dietrich von Bothmer, Alan L. Boegehold
1985
248 pages
PDF file size: 141 MB
Description
The Amasis Painter was one of ancient Greece's greatest vase painters, yet his own name has not been recorded, and he is known today only by the name of the potter whose works he most often decorated. A true individualist in the history of Athenian painting, he produced work distinguished by its delicacy, precision, and wit.

When the Amasis Painter began his artistic career around 560 B.C., Attic black-figure vase-painting was already fully established and about to overtake Corinthian pottery in the competition for the Etruscan market. Toward the end of his extraordinarily long career—around 515 B.C. —the red-figure technique had been invented and was rapidly supplanting black-figure in fashion. By tracing the Amasis Painter's stylistic development from his earliest vases to his latest, this book offers a survey of Attic black-figure technique at the peak of its perfection.

The book was prepared to accompany an exhibition held at the Metropolitan Museum of Art, the Toledo Museum of Art, and the Los Angeles County Museum of Art in 1985-1986. The exhibition is the first ever to be devoted to the work of a single artist from ancient Greece, and twenty-two museums and private collectors have lent the vases on display.


Table of Contents
Director's Foreword
Preface
Abbreviations
The Time of the Amasis Painter
Alan L. Boegehold
The World of the Amasis Painter
Dietrich von Bothmer
Color Plates
Catalogue

Amphorae

Panel-amphorae (type B)
Panel-amphorae (type A)
Psykter neck-amphora
Neck-amphorae

Oinochoai

Olpai
Oinochoai, shape III (choes)
Oinochoai, shape I

Lekythoi

Shoulder type
Sub-Deianeira shape

Aryballos
Drinking vessels

Mastoid
Cup-skyphos
Band-cups
Lip-cup
Cups of type A
Special cups, approximating type B

Signatures of Kleophrades, son of Amasis, on two cups in the Getty Museum
Shapes of vases painted by the Amasis Painter
Tripod-pyxis from the sanctuary of Aphaia on Aegina
Martha Ohly-Dumm
About the Authors
Dietrich von Bothmer is chairman of the Department of Greek and Roman Art at the Metropolitan Museum of Art in New York.

Alan L. Boegehold is professor of classics at Brown University.