<! -- Format is 2 --> <! -- Format is 2 2 -->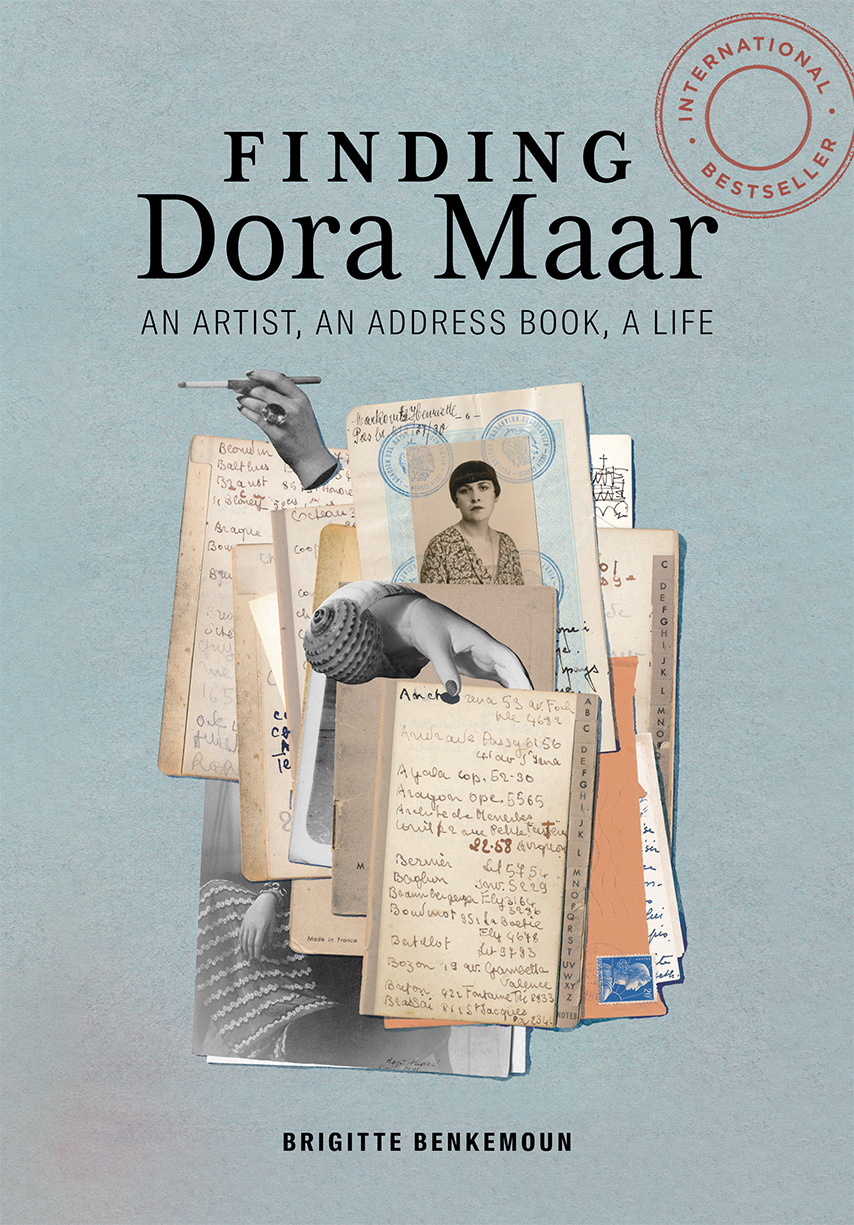 Getty Publications
216 pages
5 3/4 × 8 1/4 inches
ISBN 978-1-60606-659-1, paperback
ISBN 978-1-60606-660-7, e-book
On sale May 2020 (US & Canada), June 2020 (international)
<! -- Format is 2 -->
Finding Dora Maar:
An Artist, An Address Book, A Life
By Brigitte Benkemoun
Translated by Jody Gladding

Merging biography, memoir, and cultural history, this compelling book, a bestseller in France, traces the life of Dora Maar (1907–1997) through a serendipitous encounter with the artist's address book
---
In search of a replacement for his lost Hermès agenda, Brigitte Benkemoun's husband buys a vintage diary on eBay. When it arrives, she opens it and finds inside private notes dating back to 1951—twenty pages of phone numbers and addresses for Balthus, Brassaï, André Breton, Jean Cocteau, Paul Éluard, Leonor Fini, Jacqueline Lamba, and other artistic luminaries of the European avant-garde.
After realizing that the address book belonged to Dora Maar—Picasso's famous "Weeping Woman" and a brilliant artist in her own right—Benkemoun embarks on a two-year voyage of discovery to learn more about this provocative, passionate, and enigmatic woman, and the role that each of these figures played in her life.
Longlisted for the prestigious literary award Prix Renaudot, Finding Dora Maar is a fascinating and breathtaking portrait of the artist.
Brigitte Benkemoun is a journalist and writer. She is the author of La petite fille sur la photo and Albert le Magnifique. Jody Gladding is a poet and translator. She has translated some thirty books from French, including, most recently, Michel Pastoureau's Yellow: The History of a Color, and Jean Giono's Occupation Journal.
Early praise for Finding Dora Maar:
"This enthralling study of Paris and its artistic avant-garde should be required reading for Surrealist and modern art lovers."
— Publishers Weekly, starred review
"[A] spirited and deeply researched project…. [Benkemoun's] affection for her subject is infectious. This book gives a satisfying treatment to a woman who has been confined for decades to a Cubist's limited interpretation."
— Joumana Khatib, The New York Times
"Part detective story, part social history, part excellent gossip, Finding Dora Maar uses the miracle of a found address book to reconstruct the life of an important woman artist who knew everyone."
— Francine Prose, author of Peggy Guggenheim: The Shock of the Modern, and the New York Times bestselling Reading Like A Writer
"With a novelist's eye for detail, Benkemoun takes readers on a journey full of surprises as she researches and reimagines the landscape of Dora Maar's life in Surrealism and its aftermath. Guided by the scant details in Maar's address book, which came into the author's hands by chance, she reweaves the mesh of avant-garde artistic life in mid-twentieth-century France, taking us along with her as this serendipitous tale unfolds. It's well worth the trip, an informative, enjoyable read."
— Carolyn Burke, author of Lee Miller: A Life; Foursome: Alfred Stieglitz, Georgia O'Keeffe, Paul Strand, Rebecca Salsbury; and other books
"To follow this mesmerizing interrogation of a vintage address book is to watch Brigitte Benkemoun stir to life an ardent, unexpected, and achingly human Dora Maar."
— Patricia Albers, author of Joan Mitchell, Lady Painter: A Life and Shadows, Fire, Snow: The Life of Tina Modotti
"Art history meets detective work: what could be more thrilling?"
—ARTnews
Praise for the French edition:
"A highly moving portrait of the artist"
— Elle (France)
"Beautifully written and fascinating."
— Paris Match
"One of the happy surprises of the end of the literary season."
— Livres Hebdo
Press requests: Contact Megan Ro | (310) 440 6536 | mero@getty.edu
For more about Getty Publications, visit www.getty.edu/publications
This work received support from the French Ministry of Foreign Affairs and the Cultural Services of the French Embassy in the United States through their publishing assistance program.