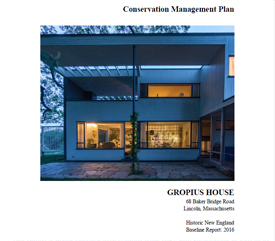 Conservation Management Plan: Gropius House
2018
897 pages
PDF file size: 117.3 MB
Grantee Organization: Society for the Preservation of New England Antiquities Inc.
Grant Year: 2015
Architect: Walter Gropius
Country: United States
Year Building Completed: 1938
Description
A conservation management plan for the Gropius House in Lincoln, Massachusetts.
Copyright Notes
Conservation Management Plan: Gropius House, Jablonski Building Conservation Reports, Existing Condition Plans
© 2017 Historic New England
Except as set forth below, licensed under a Creative Commons Attribution-Noncommercial 4.0 International license

All Figures credited to Harvard Art Museums, courtesy Harvard Art Museums. All Rights Reserved.
Additional Links