Conservation Issues of Modern and Contemporary Art (CIMCA) Meeting
Museum of Modern Art, New York, June 2-4, 2008
In June 2008, the Getty Conservation Institute organized a meeting of international experts to discuss the significant and often highly complex issues faced by professionals in the conservation of modern and contemporary art. The meeting, entitled Conservation Issues of Modern and Contemporary Art (CIMCA), was attended by twenty-six invited participants from Europe and the Americas. The group included conservators from a number of key institutions and in private practice, as well as scientists, collection managers, and those involved in conservation training programs and professional networks for contemporary art.
This meeting had a particular task—to build upon some of the main issues highlighted at The Object in Transition conference, held at the Getty Center in January 2008. With an ever-increasing number of researchers becoming more active in this field, it was also thought to be an appropriate time to take stock of current interests, needs, and intentions in the conservation of modern and contemporary art. The observations and conclusions from this meeting are summarized in the CIMCA meeting report.
Download the CIMCA report here. (12pp., PDF, 87KB)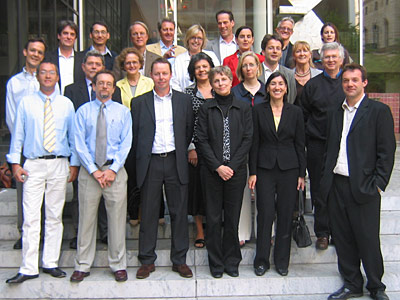 Back Row: Paul Whitmore, Christian Scheidemann, Stephan Schaefer, Glenn Wharton, Francesca Esmay.

Third Row: Jay Krueger, Michael Schilling, Nancy Micklewright, Ana Martins, Gunnar Heydenreich, Dana Cranmer.

Second Row: Christopher McGlinchey, Alberto de Tagle, Jill Sterrett, Carol Mancusi-Ungaro, Michele Marincola, Derek Pullen.

Front Row: Luiz Souza, Jim Coddington, Alan Phenix, Susan Lake, Jeanne Marie Teutonico, Tom Learner.
Page updated: January 2009