The Character Heads
Messerschmidt created the Character Heads between 1770 and his death in 1783. Their distracting, if amusing, titles—such as A Hypocrite and a Slanderer and The Difficult Secret—were not his invention. Instead, they were assigned after 49 heads were exhibited at the Citizen's Hospital in Vienna in 1793.

The titles, with descriptive text, were printed in the exhibition catalogue The Peculiar Life History of F. X. Messerschmidt, Royal and Imperial Sculpture Teacher (published anonymously in 1794), the same year that they were first referred to as "Character Heads" in a Viennese newspaper. Subsequently, they were often displayed as curiosities at the Prater, an amusement park in Vienna, and wax and plaster copies were available for purchase.

Messerschmidt called the works Kopfstücke (head pieces), and they were to represent the full range of human expressions, which he reckoned to be 64. They may also have functioned as apotropaic objects, designed to protect him against menacing spirits—specifically, the "Spirit of Proportion"—that "so frightened and plagued him at night."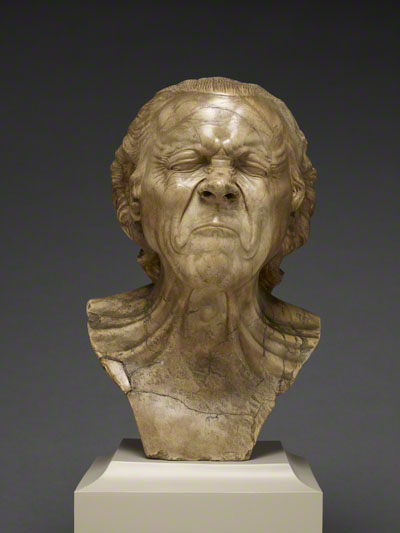 The Vexed Man
The elderly man's curmudgeonly mood is conveyed through his contorted, grimacing expression. His nostrils flare as if he is recoiling from an unpleasant smell, and wrinkles fan out across the temples from his tightly pressed eyes. Deeply etched symmetrical loops frame the compressed lips, and the sinews of the neck are stretched taut.
This head is carved in alabaster which, when freshly cut, is white but yellows over time. Messerschmidt exploited its warm hue to mimic flesh tones, incorporating the stone's natural grain into his composition in the form of wrinkles across the forehead and cheeks. The face's smooth polished surfaces are contrasted with the coarsely chiseled hair brushed back behind the ears.
Learn more and see other views of The Vexed Man »
AUDIO: Learn more about this sculpture.
Update Required
To play the media you will need to either update your browser to a recent version or update your
Flash plugin
.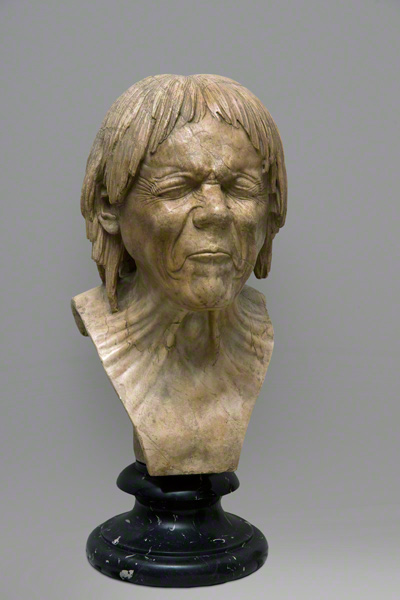 Just Rescued from Drowning
With The Vexed Man, this head belongs to a group of alabaster Character Heads probably depicting the same man but with his hair arranged in a variety of ways.

The title of this sculpture—Just Rescued from Drowning—suggests that he just has been submerged in water; his lank hair (or a wig) hangs down on his forehead. But the distinctive hairstyle may relate to those featured on Gothic sculptures of southern Germany, which would have been familiar to Messerschmidt. In both this sculpture and The Vexed Man, the deep ear cavities are gouged out with the sculptor's drill.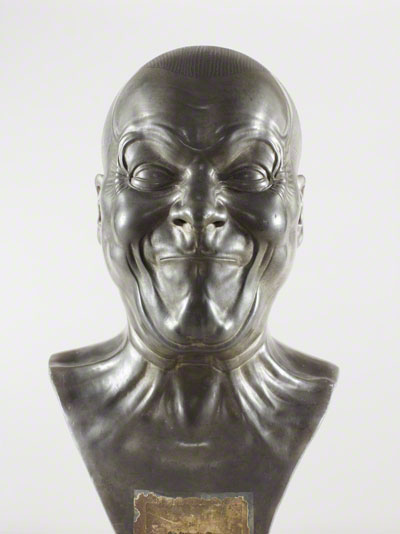 A Strong Man
This head belongs to a group of Character Heads that feature a bald man with a tall, broad forehead and occasionally incised patterning to suggest a shaved head. They apparently depict the same man, thought by some to be Messerschmidt himself. Each head in this group served as a blank slate on which Messerschmidt could rework the model to create new and varying expressions.

Here the exaggeratedly arched eyebrows, blank pupils, and jocular expression mimic the mask-like artificiality of a clown's face, an association that contributed to the general popularity of these heads during the 19th century.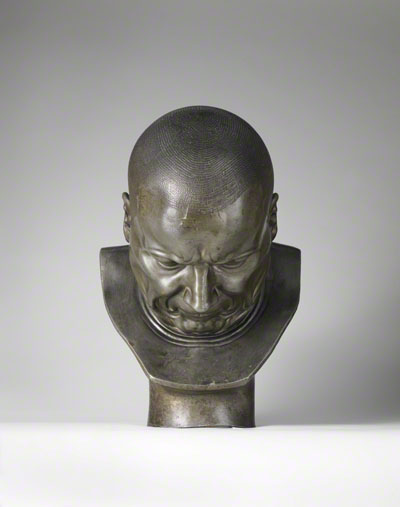 A Hypocrite and a Slanderer
The bullet-like head and thick, squat neck of this man stand out among Messerschmidt's Character Heads. Its title, A Hypocrite and a Slanderer, hints at a dark secret, and his hunched and introverted pose, with chin slumped on his chest, suggests dishonorable circumstances. In fact, to study this head most satisfactorily, the viewer is compelled to kneel in order to peer up at the down-turned head that conveys a sense of shame.

Some scholars have referred to this and related heads as depicting "refusers"—subjects who avert their gaze and draw in on themselves, demonstrating behavior verging on autistic uncommunicativeness.

AUDIO: Dr. Eric Kandel discusses empathy and viewing Messerschmidt's sculptures.
Update Required
To play the media you will need to either update your browser to a recent version or update your
Flash plugin
.

Publication

Related Information