Hiroshi Hamaya
Born and raised in Tokyo, Hiroshi Hamaya (Japanese, 1915—1999) began his career documenting that city from the air and the street, working as both an aeronautical photographer and a freelance contributor to magazines. An assignment in 1939 took him to the rural coast of the Sea of Japan, where he became interested in documenting the traditional customs of its people and the austere environment of the region. Over the next two decades he recorded life on the back coast prefectures, developing a more humanist, ethnographic approach toward photography. In the early 1950s he settled in the seaside town of Ōiso, where he produced books based on earlier projects. Later in his career, Hamaya chronicled the massive demonstrations against the renewal of the US-Japan Security in Tokyo in 1960, and also made studies of landscapes found in Japan and abroad.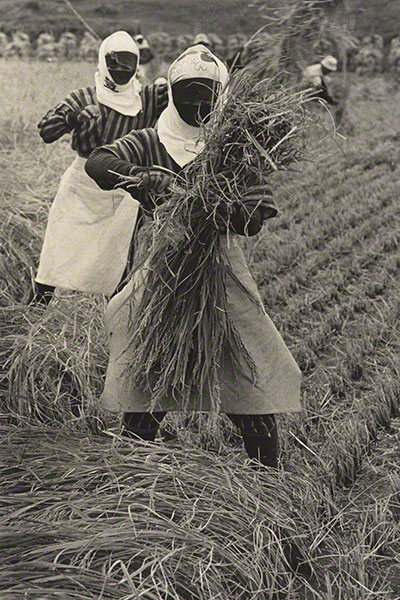 Japan's Back Coast
"Knowledge of the back coast, along the Sea of Japan, is somewhat vague to those not living there, and in the minds of most people it is a country obscured by snow. In Japan, the back coast is where the old era still lingers on ... The supporting industries of this back coast are primitive—agriculture, forestry, and fishing. The work involved is backbreaking physical labor. A narrow land, a heavy population, and climatic drawbacks invite a vicious circle of poverty. The basic Japanese foods are fish and rice. And they are obtained by these people only through hard labor." —Hiroshi Hamaya, Ura Nihon (Japan's Back Coast), 1957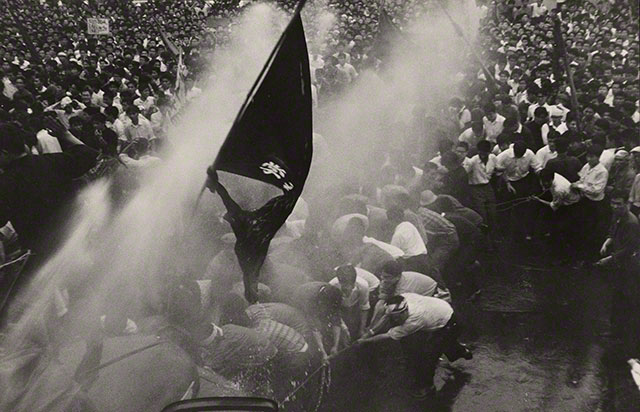 A Chronicle of Grief and Anger
In 1959 the proposed ten-year renewal of the United States–Japan Security Treaty of 1952 meant the continuation of the presence of U.S. troops and the persistence of U.S. political and cultural influence. When Prime Minister Nobusuke Kishi, with the aid of the police, forced the Japanese parliament to ratify the treaty in May 1960, the public upheaval was immense. Hamaya, a pacifist living outside Tokyo, entered the fray with his camera, chronicling the demonstrations. His pictures were published both individually and in the form of a quickly assembled paperback under the title Ikari to kanashimi no kiroku (A Chronicle of Grief and Anger).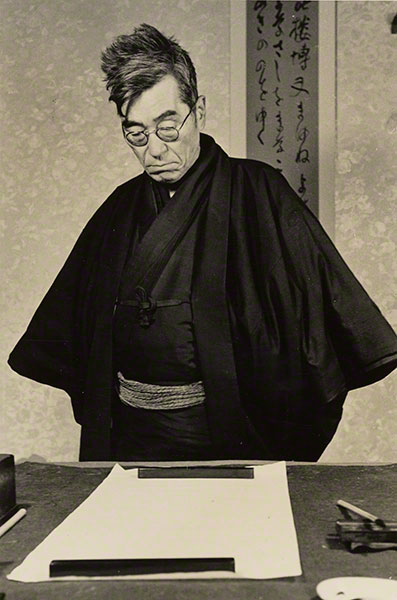 Portraiture
Japanese society had a pronounced respect for artists, authors, craftsmen, and scholars. As a freelance photographer, Hamaya was often enlisted to make portraits of them for publication. He compiled a selection of these portraits made since the 1940s for the 1983 book Japanese Scholars and Artists, which included the renowned poet, art historian, and calligrapher Yaichi Aizu. Hamaya also produced a series of genre studies that featured his wife, Asa Hamaya, who was a skilled master of the tea ceremony. After her death in 1985 Hamaya prepared a memorial to her in the form of a portfolio of prints, titled "Calendar Days of Asa Hamaya," following the earlier ukiyo-e tradition of woodblock series such as bijin-ga (pictures of beautiful women).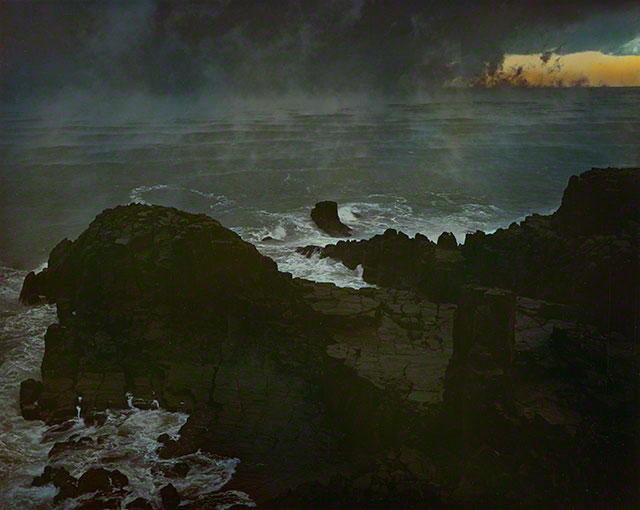 Observing Nature
"I spent three years and four months on an extended walking tour to observe nature in Japan, from the drifting ice packs off the Shiretoko Peninsula to the coral reefs of Okinawa ... Nature breathed, sometimes deeply and sometimes violently, with the climatic changes of the seasons, and with the changing face of daily weather, humidity, seasonal winds, and typhoons. In particular, the distribution of plants from the subarctic to the subtropical zones, and of lichen and mosses, was both complex and varied. ... I came to realize that natural features in Japan, like the nature of its people, were extremely diversified and complex. I intended to investigate this conclusion with my own eyes." —Hiroshi Hamaya, "My Fifty Years of Photography," 1982


Publication