Beyond the Nile
Egypt and the Classical World
Egypt was the oldest and most imposing civilization of the ancient world, renowned for its invention of writing, its monumental pyramids and temples, and its knowledge of history, astronomy, mathematics, magic, and medicine. Through this cultural prestige, as well as trade and diplomacy, Egypt exerted considerable influence on neighboring cultures throughout the Mediterranean, and was in turn affected by them. This exhibition explores the rich history of interconnections between Egypt, Greece and Rome over a span of more than two thousand years, from the Bronze Age to the Roman Imperial period.
Trade and gift exchange are the most visible features of early contacts in the centuries after 2000 BC, when Egyptian pharaohs sent stone vessels and other luxury goods to Minoan Crete and Mycenaean Greece, in return for silver bullion and scented oils in finely decorated pottery. Minoan artists even journeyed to Egypt to decorate a royal palace with Minoan-style frescoes. In the late seventh century BC, the Greeks were given permission by the pharaoh to establish a trading colony in the Nile Delta. The beginnings of monumental marble sculpture and architecture in Greece at this time manifest the clear impact of Egypt on the development of Greek art.
All previous interaction was overshadowed by Alexander the Great's conquest of Egypt in 332 BC, ushering in nearly three centuries of Greek rule under the dynasty founded by his general Ptolemy. The subsequent mixing of Greek and Egyptian populations produced a diverse culture that embraced both local and foreign religious practices and artistic styles. After the Romans defeated the last Ptolemaic ruler, Cleopatra, in 31–30 BC, they absorbed Egypt into their empire as its richest province. Classical art had a strong effect on Egypt during this period, notably in funerary portraiture; and a fascination with all things Egyptian quickly spread throughout the Roman empire.
Download the exhibition object checklist
EGYPT AND THE AEGEAN IN THE BRONZE AGE
2000–1100BC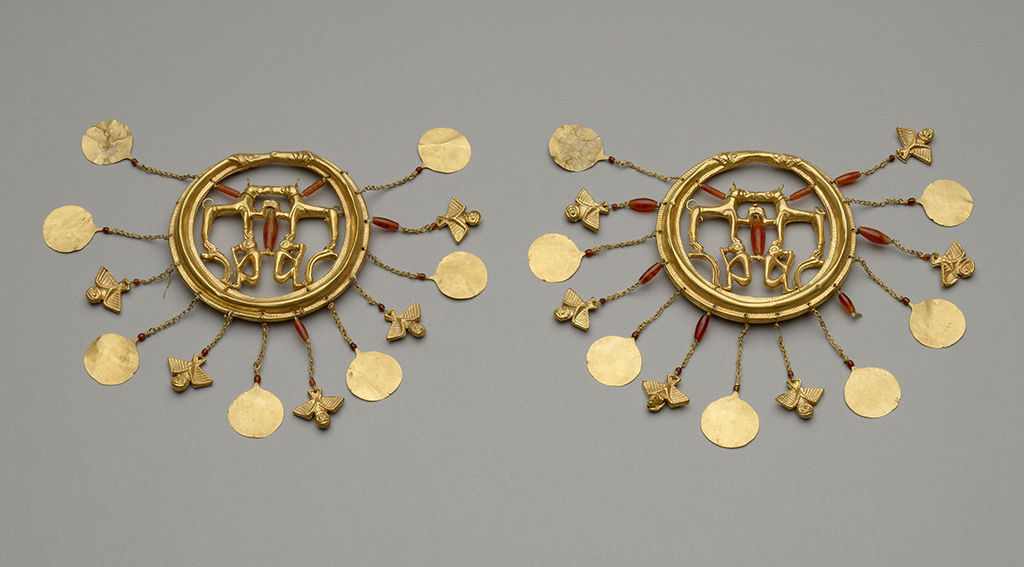 The Minoan civilization—named after the legendary king Minos—flourished on the island of Crete in 2000–1450 BC. At a number of cities, including Knossos and Phaistos, newly constructed palaces were the center of religious rituals, artists' workshops, and commerce. Minoan seafarers made their way to Egypt, trading silver, scented oil, and pottery for raw materials and luxury items that they brought back home. Some Egyptian objects appear to have reached Crete as royal gifts. These exchanges inspired both Egyptian and Minoan craftsmen to fashion imitations of each other's wares, and mutual influence extended to religion and medicine.

At the same time, the first Greek-speaking people were establishing kingdoms in mainland Greece, notably at Mycenae. Skilled in warfare, the Mycenaeans became the dominant power in the Aegean in 1500–1200 BC, taking control of Crete around 1450 BC. They continued to trade with Egypt and offered their service as soldiers in the Egyptian army.

Waves of immigration and violent conflict throughout the eastern Mediterranean brought an end to the palace cultures of Greece, Anatolia (present-day Turkey), and much of the Levant (present-day Lebanon, Syria, and Israel) soon after 1200 BC. Egypt, however, was able to resist invaders and survived the turbulent collapse that affected the rest of the region.
THE GREEKS RETURN TO EGYPT
700–332 BC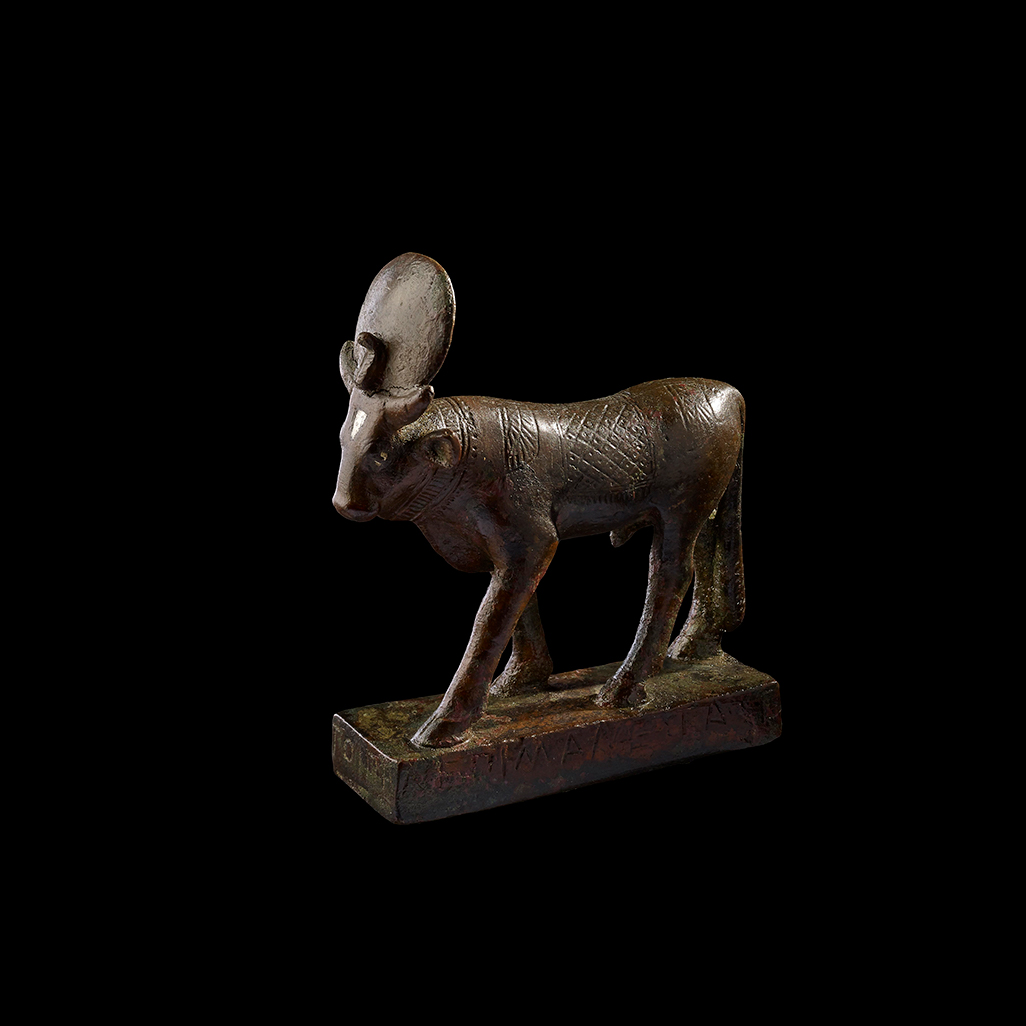 Contact between Greece and Egypt diminished following the collapse of the Mycenaean kingdoms at the end of the Bronze Age (1200–1100 BC), but Greeks started returning to Egypt in the seventh century BC. As before, they came as merchants and soldiers, and the Egyptian pharaohs, finding their services beneficial, allowed them to settle. Greek traders from Ionia (present-day western Turkey) and the islands of Rhodes and Aegina established an important colony at Naukratis, in the western Nile Delta. Although the Egyptians discouraged close relations with settlers, some Greeks rose to high positions in the royal court. The pharaoh Amasis II (ruled 570–527 BC) in particular was an admirer of the Greeks and married a Greek princess from the Greek city of Cyrene.

Greek artists were greatly inspired by the art and architecture they encountered in Egypt. Craftsmen in Naukratis and on the Greek islands learned to imitate Egyptian bronze figurines, faience vessels, and other small luxury objects, which were appreciated for their technical sophistication and exoticism. Sculptors in Greece began to create figural statues modeled on monumental Egyptian types, starting a process of invention and experimentation that would last centuries.
PTOLEMAIC EGYPT
323–30 BC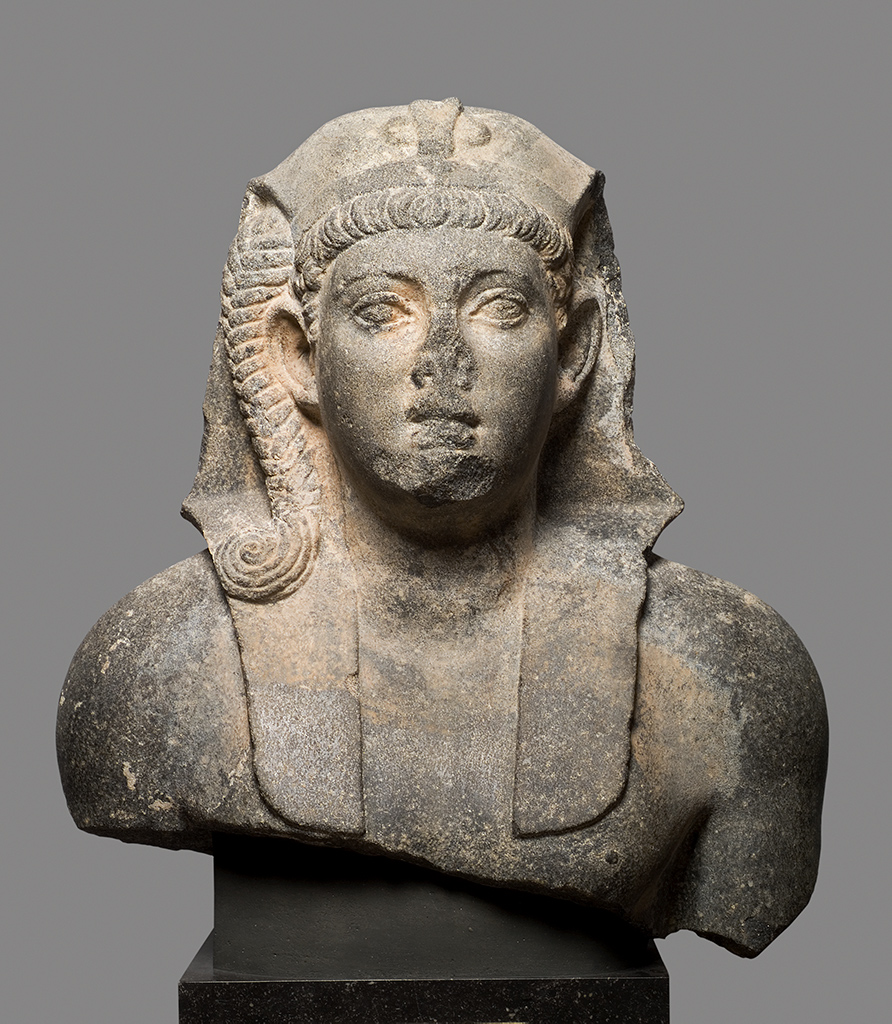 In 332 BC the Macedonian king Alexander the Great seized Egypt as part of his campaign to conquer the Persian Empire. After Alexander's untimely death in 323 BC, control of Egypt passed to his general Ptolemy, who proclaimed himself king in 305 BC and established a dynasty that ruled for nearly three centuries, with fifteen successive monarchs each taking the same name. The Ptolemies maintained many of the existing political and religious institutions they found in Egypt but created a hybrid Greco-Egyptian culture. The new capital called Alexandria, on the Mediterranean coast, became the largest and wealthiest city of the Hellenistic Greek world, as well as a major center of learning.

The Ptolemies were famously extravagant and spared no expense in promoting themselves and their dynastic aspirations. Their portraits were disseminated through stone sculpture, gold and silver coins, and precious gems and cameos. Marble statues portrayed them as Greek kings and queens with individualized features, while dark stone figures and reliefs represented them as Egyptian pharaohs making offerings to local gods.
PORTRAITS OF EGYPTIAN PRIESTS AND OFFICIALS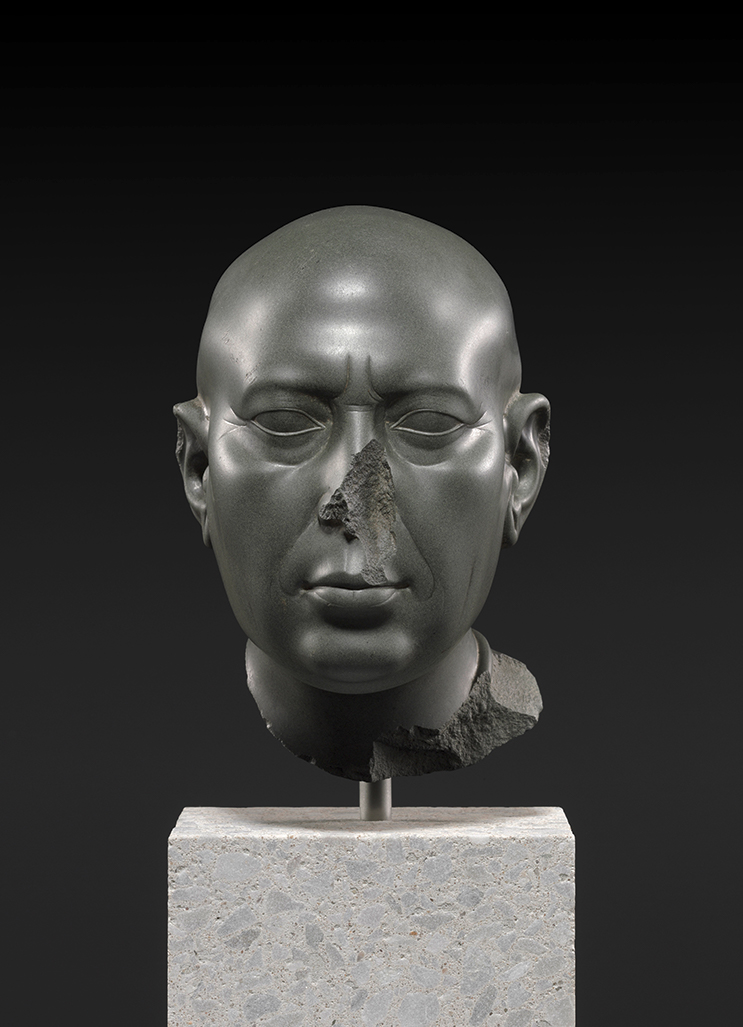 Beginning around 2600 BC, Egyptian priests and high officials were honored with portrait statues displayed in temples and tombs.

A number of these works are strikingly naturalistic. While some might reflect actual appearances, many employ conventional mannerisms—such as corpulence, high cheekbones, pronounced eye sockets, and pursed lips—to impart a lifelike countenance. During Egypt's Late Period (664–332 BC), sculptors conveyed individuality through irregularly shaped skulls, detailed eyes and ears, wrinkles at the corners of the eyes, furrowed brows, sagging flesh, and even scars and warts. After the Greek conquest of Egypt, artists continued to produce vivid portraits in this tradition but sometimes added features showing contemporary Hellenistic influence.
EGYPT AND THE ROMAN EMPIRE
30BC–AD300
The Roman general Octavian (the future emperor Augustus) brought Egypt under Roman rule with the defeat of Cleopatra VII and Marc Antony in 31–30 BC. Like the Ptolemies before them, the Roman emperors often presented themselves as Egyptian pharaohs to the local people. The populace was now a mix of Egyptians and Greeks, many of whom were bilingual. They venerated gods of both cultures, and their religious and funerary art reflects this complex blend of ethnicities and influences.

The Romans marveled at the wealth, ancient traditions, and mysterious religion of the newly acquired land. Emperors brought obelisks and stone statues from Egypt to Rome to demonstrate their power as conquerors. Roman sculptures, paintings, mosaics, and luxury objects evoking Egyptian subjects and landscapes became immensely fashionable as decoration for villas. Deities such as Isis and Serapis gained popularity beyond Egypt and found worshippers throughout the Roman Empire.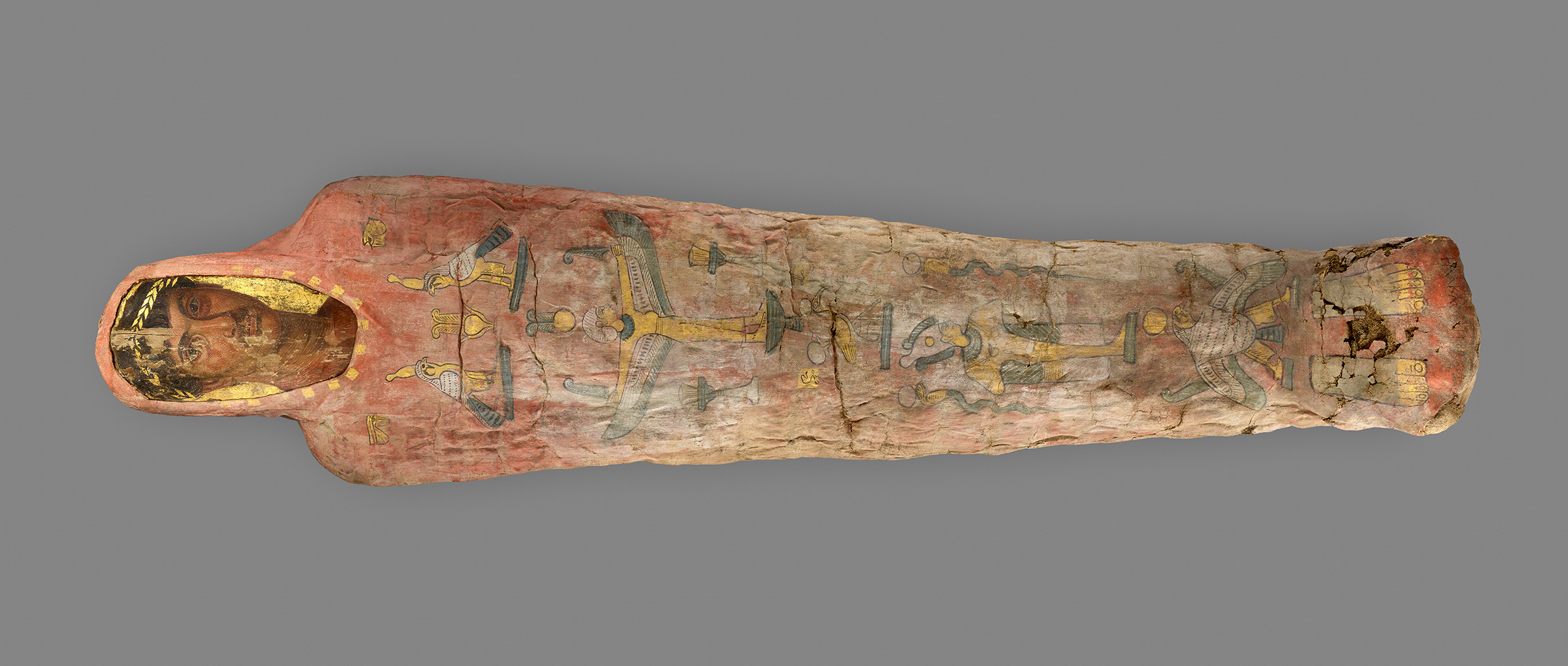 EGYPT AND SOUTHERN ITALY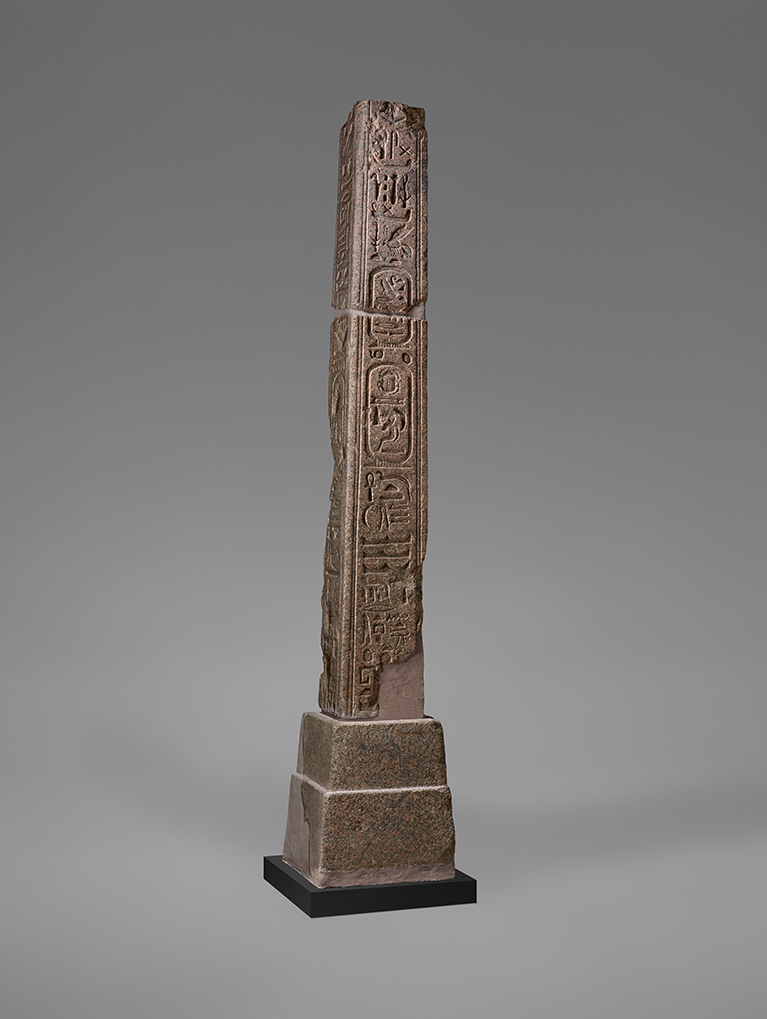 Many works of art with Egyptian subjects have been found at Pompeii, Herculaneum, Stabiae, and other sites around the Bay of Naples that were buried by the eruption of Mount Vesuvius in AD 79. Private villas were decorated with frescoes that evoked the people, landscape, and religion of Egypt. Statuettes and ritual implements discovered in some houses indicate that their occupants embraced the worship of Egyptian deities.

The cult of Isis enjoyed great popularity in southern Italy, and sanctuaries dedicated to the goddess proliferated throughout the region. A prominent temple of Isis in Pompeii contained Roman statues and wall paintings with Egyptian themes, as well as works imported from Egypt. During the reign of the emperor Domitian (AD 81–96), a large temple of Isis was established in the important city of Beneventum (present-day Benevento), northeast of Naples. It was ornamented with numerous sculptures carved from Egyptian stones, including two granite obelisks commemorating the ruler and the goddess.
EGYPT AND ROME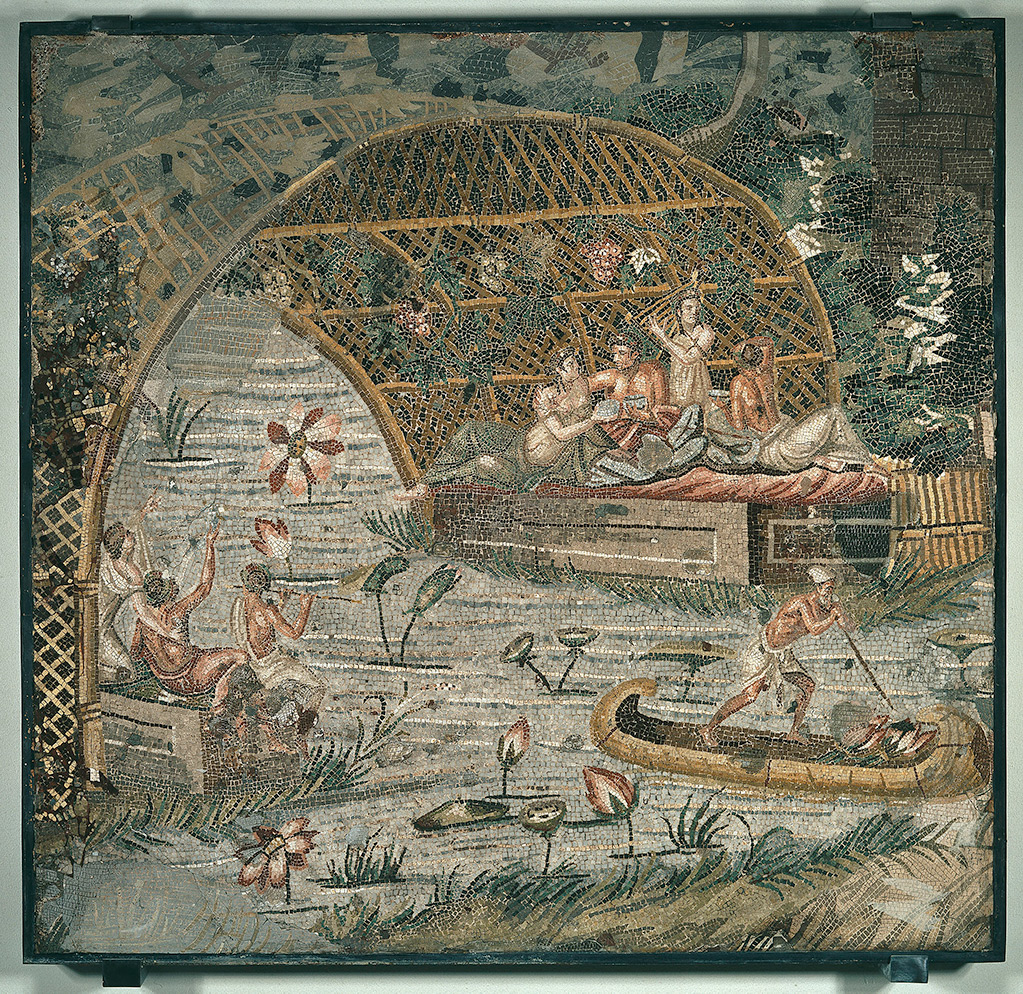 Egyptian works of art reached Rome as early as the third century BC, first as royal gifts from the Ptolemies and then to satisfy wealthy Romans desiring exotic decoration for their homes. After the conquest of Egypt in 30 BC, the emperor Augustus brought back many spoils from the region as symbols of imperial triumph. Newly established temples in Rome dedicated to the deities Isis and Serapis displayed statues imported from Egypt as well as sculptures made in Italy in Egyptianizing style. Fascination with the recently annexed land encouraged the production of all manner of evocative images. Nilotic landscapes appeared on the frescoed walls of luxurious Roman villas; Egyptian motifs adorned furniture, silverware, and glass vessels; and sculpted Egyptian deities, crocodiles, and hippopotami populated private gardens.
EGYPTIANIZING SCULPTURE FROM HADRIAN'S VILLA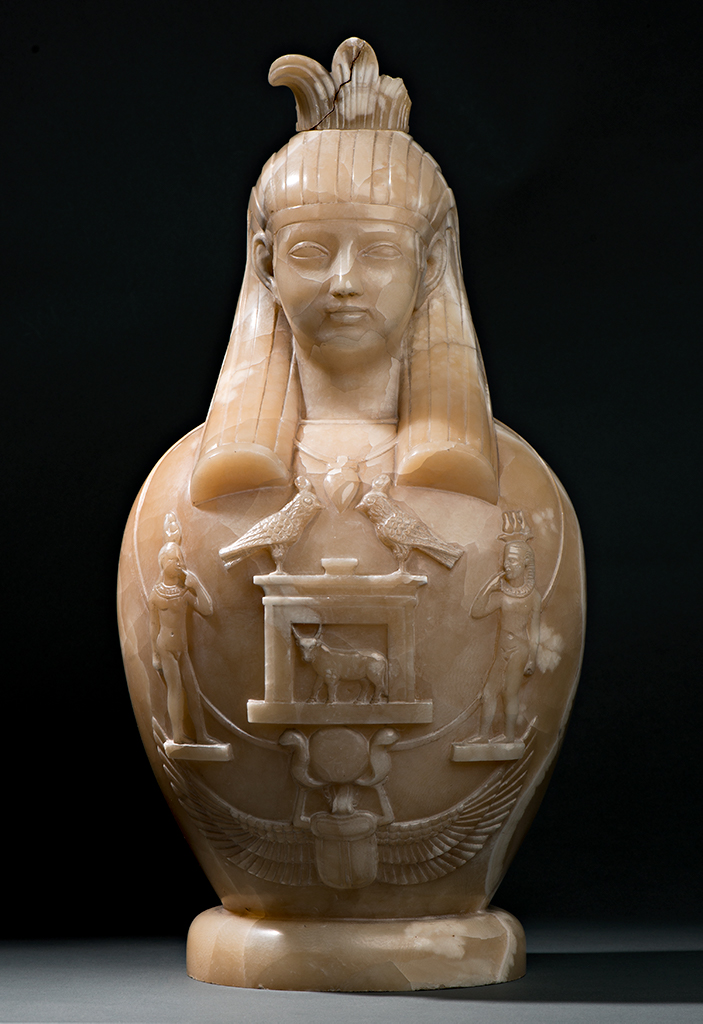 During the Roman emperor Hadrian's visit to Egypt in AD 130–131, his companion Antinous tragically drowned in the Nile River. The grieving ruler memorialized his young lover by founding the city of Antinoopolis near the site of his death. He also established a Roman cult in which Antinous was honored as a semidivine hero and equated with Osiris, the Egyptian god of the underworld.

Hadrian's lavish imperial villa at Tivoli, northeast of Rome, was decorated with numerous statues of Antinous in Egyptian costume, as well as many other sculptures with Egyptian imagery. The enormous complex was designed to evoke the ruler's wide-ranging travels throughout the Roman Empire. A terraced garden with a long pool was named Canopus after the site near Alexandria in Egypt, and a sanctuary that may have been dedicated to Antinous contained an obelisk in his memory.