Date: Saturday, January 21, 2006, 8:00 p.m.
Location: Getty Center, Harold M. Williams Auditorium
Admission: Tickets $20; students/seniors $15. Call (310) 440-7300 for tickets.

Enjoy an evening of soaring Renaissance music from the Hilliard Ensemble, one of the world's finest vocal chamber groups.

This special concert complements the exhibition Titian and the Commander: A Renaissance Artist and His Patron, which examines the relationship between Titian and 16th-century courtier Alfonso d'Avalos. The ensemble will sing a madrigal by Cipriano de Rore, "Anchor che col partire," featuring poetry written by d'Avalos, as well as a piece from a book of motets dedicated to him by Nicholas Gombert.

They will also perform songs from Henry VIII's songbook Fortuna Desperata and selections from their latest CD Nicolas Gombert, which celebrates the music of this 16th-century composer.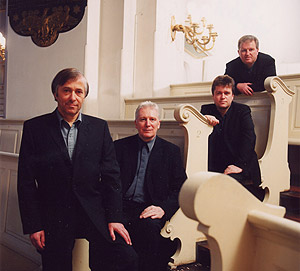 About the Hilliard Ensemble
For over 30 years, the Hilliard Ensemble has combined impeccable musicianship and a distinctive style into stunning, compelling performances. Masters of Medieval and Renaissance music, the group also performs works specially written for it by living composers.

The Hilliard Ensemble's most recent recording, Machuat, was nominated for a Grammy Award and highlighted by the New York Times as one of the best classical CDs of 2004. The Chicago Tribune calls their concerts "an absorbing, uniquely moving experience."

About Gordon Getty Concerts
Gordon Getty Concerts feature acclaimed musicians in performances that complement special and continuing exhibitions at the Getty Center.