What are those bus-size balloons in the Museum Entrance Hall? They are Überorgan, a massive construction of balloons and horns by Tim Hawkinson that is making its West Coast debut at the Getty Center. Überorgan complements the exhibition Zoopsia: New Works by Tim Hawkinson (March 6–September 9, 2007).

What Is Überorgan?
Überorgan is an enormous contemporary sculpture by Los Angeles-based artist Tim Hawkinson. It exemplifies Hawkinson's characteristic use of the ordinary to achieve the extraordinary, combining and recomposing common industrial materials and found musical phrases into a multisensory sculptural experience.

Überorgan changes with every installation, and at the Getty Center it playfully interacts with its setting, the modernist rotunda designed by architect Richard Meier.

The musical score for Überorgan consists of a 250-foot-long scroll. Black dots and dashes encode the notes of traditional hymns, pop songs, and improvisational tunes. The notes are deciphered by light-sensitive switches in its player and scrambled to create an endless variety of compositions.

Überorgan performs for five minutes every hour on the hour throughout the run of the exhibition.



Hear the Organ
Foghorn? Cello? Bagpipes? Hear the sounds of Überorgan (0:59)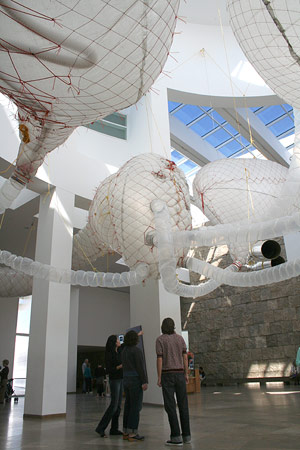 About Zoopsia and Tim Hawkinson
In Zoopsia: New Works by Tim Hawkinson (March 6–September 9, 2007), an exhibition of new works commissioned for display at the J. Paul Getty Museum, Tim Hawkinson creates a surprising menagerie of zoological forms using common household and industrial items and reconfigured images of his own body. Zoopsia reveals Hawkinson's characteristic strategies of fragmentation, translation, and metaphor as applied to a range of creatures past and present.

The word zoopsia means "visual hallucination of animals." While Hawkinson's ideas do not literally derive from hallucinations, as the exhibition title suggests, they do often begin with an alternate interpretation or enhanced misreading of objects and materials from the everyday world.

Zoopsia: New Works by Tim Hawkinson and the presentation of Überorgan mark the inauguration of a more regular engagement with contemporary art through commissioned projects and exhibitions at the J. Paul Getty Museum.







How to Get Here
The Getty Center is located at 1200 Getty Center Drive in Los Angeles, California, approximately 12 miles northwest of downtown Los Angeles. Parking is $8. See Hours, Directions, Parking for maps and driving directions.