Dates: August 13–14, 20–21, and 27–28
Time: 4:00–6:00 p.m.
Location: Central Garden
Admission: Free; no reservations required.

Garden Concerts for Kids returns for three weekends of rockin' tunes for fidgety feet in the Getty's Central Garden.

Come early to browse the galleries, wander the gardens, and enjoy a picnic on the grass.

It's free—all you need to bring are sunscreen and lots of imagination.
Justin Roberts and the Not Ready for Naptime Players, August 20–21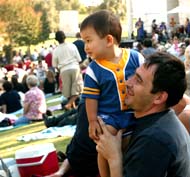 Come on and shake a tail feather with the Cultural Heritage Choir on a journey through African American song.

The choir performs African-inspired call-and-response songs that blend folk tales, powerful percussion, and dance into a celebration of freedom. Their music is foot-stomping, hand-clapping fun for kids of all ages.

Please note that due to illness, Linda Tillery will not be appearing with the Cultural Heritage Choir for this concert. We wish her a speedy recovery.
Music Sample
Hear a music sample from Linda Tillery and the Cultural Heritage Choir's CD Say Yo' Business (2001, EarthBeat! Records)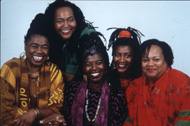 Three-time Parents' Choice Gold Award winner Justin Roberts combines upbeat rock with snappy lyrics about key childhood issues such as cleaning your room, wanting a dog, and coping with monsters in the dark.

Backed by the Not Ready for Naptime Players, Roberts perfectly captures a kid's-eye view of the world.
Music Sample
Hear a music sample from Justin Roberts' CD Way Out (2004, Carpet Square)
Celebrate Latin American culture with José-Luis Orozco as you dance, sing, and maybe even make an animal sound or two.

Orozco thrills preschoolers, grade-schoolers, and fun-loving parents with his bilingual celebrations of Latin American history, language, and culture. His popular books and songs encourage kids to read, learn about other cultural traditions, and just have fun being kids. "El sonido es mágico," says La Opinión.
Music Sample
Hear a music sample from José-Luis Orozco's CD Diez Deditos (2004, Arcoiris Records)