Frederick Hammersley Archive
Frederick Hammersley sketchbooks, prints, notes, and working materials, 1948–1980


The Getty Research Institute has acquired a set of sketchbooks, notebooks, lithographs, prints, and other working materials by Frederick Hammersley (1919–2009), one of the founding members of hard-edge abstractionism, Southern California's first homegrown postwar artistic movement. Covering almost every period of Hammersley's nearly 50-year career, the collection, particularly the 11 sketchbooks and notebooks and 65 paint sample charts, provides meticulous technical details outlining the materials and processes used for most of the paintings he produced.

In contrast to the reigning abstract expressionism of 1950s and 1960s New York, Hammersley and his West Coast contemporaries emphasized clean lines, careful geometries, and quiet aesthetic contemplation. His canvases range from stark geometric designs to more flowing combinations of multihued shapes. Despite their precise lines and construction, Hammersley's personal touch remains evident, as does the importance he placed on intuition as a guiding principle for art making. The collection includes a small unstretched canvas that is considered Hammersley's first "Hunch" painting, the term he used for works that were composed by instinctually laying down one color form and complementing it with another, and so on.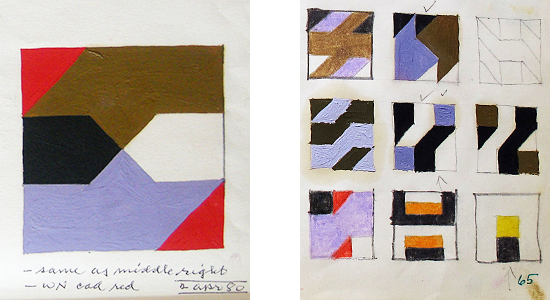 This small but very dense collection, generously donated by the Frederick Hammersley Foundation, sheds considerable light on Hammersley's artistic process from both an intellectual and technical standpoint. The materials have very high research potential for art historians and conservators. Because Hammersley was a generation older than the 1960s and 1970s artists whose work forms the Research Institute's strongest holdings in this area, the acquisition also significantly expands the scope of the Institute's related collections.


Hammersley's attention to both craft and avant-garde visual strategies align him with a narrative of art in Los Angeles populated by poised, considered, carefully constructed objects, including those of artists Larry Bell, Billy Al Bengston, and Ken Price. This influence continues in younger generations of artists in Southern California, and owing in part to a renewed interest in abstraction, the last two decades have witnessed newfound attention to Hammersley's work.