Photographs of the Past: Process and Preservation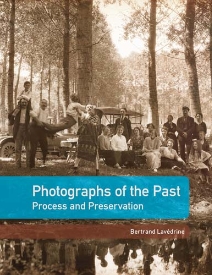 Bertrand Lavédrine
With the collaboration of Jean-Paul Gandolfo, Sibylle Monod, and John P. McElhone; preface by Michel Frizot; 2009
Purchase a Copy
Find in WorldCat
In recent years, interest in old photographs has grown significantly among a broad public, from collectors, conservators, and archivists to amateurs seeking to preserve precious family albums. Although the medium of photography is barely 150 years old, its relatively brief history has witnessed the birth of a wide range of photographic processes, each of which poses unique conservation challenges.
This volume provides a comprehensive introduction to the practice of photograph preservation, bringing together more information on photographic processes than any other single source. Introductory chapters cover issues of terminology; the rest of the book is divided into three parts: positives, negatives, and conservation. Each chapter focuses on a single process—daguerreotypes, albumen negatives, black-and-white prints, and so on—providing an overview of its history and materials and tracing the evolution of its technology. This book will serve as an irreplaceable reference work for conservators, curators, collectors, dealers, conservation students, and photographers, as well as those in the general public seeking information on preserving this ubiquitous form of cultural heritage.
Related Getty Conservation Institute projects: Photographic Processes Research and Preservation of Photographs and Photograph Collections.