El Pueblo: The Historic Heart of Los Angeles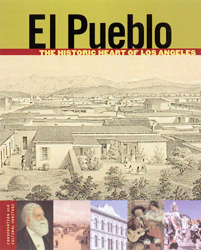 Jean Bruce Poole and Tevvy Ball; 2002

Purchase a Copy
Find in WorldCat
Founded in 1781 by pioneers from what is today northern Mexico, El Pueblo de Los Angeles mirrors the history and heritage of the city to which it gave birth. When the pueblo was the capital of Mexico's Alta California, the region's rancheros came here to celebrate mass or to attend fiestas in the historic Plaza. Following California statehood in 1850, the pueblo for a time ranked among the most lawless towns of the American West. American speculators, wealthy rancheros, and Italian wine merchants crowded its dusty streets. The town's first barrio and the vibrant precincts of Old Chinatown soon grew up nearby. As Los Angeles burgeoned into a modern metropolis, its historic heart fell into ruin, to be revitalized by the creation in 1930 of the romantic Mexican marketplace at Olvera Street. Here, two years later, David Alfaro Siqueiros painted the landmark mural America Tropical, whose story is a fascinating tale of art, politics, and censorship. In the decades since, the pueblo has remained one of Southern California's most enduring—and most complex—cultural symbols.
El Pueblo vividly recounts the story of the birthplace of Los Angeles. An engaging historical narrative is complemented by abundant illustrations and a tour of the pueblo's historic buildings. The book also describes initiatives to preserve the pueblo's rich heritage and considers the significance of its multicultural legacy for Los Angeles today.
Related Getty Conservation Institute Project:
Conservation of América Tropical
.