Residential Fabric
More than any other building type, the residence has made Los Angeles famous for innovation in modern architecture. The ideal Southern California climate and the varied natural terrain lured prospective homeowners to the West Coast, and provided architects with opportunities to rethink the configuration and aesthetics of the conventional dwelling.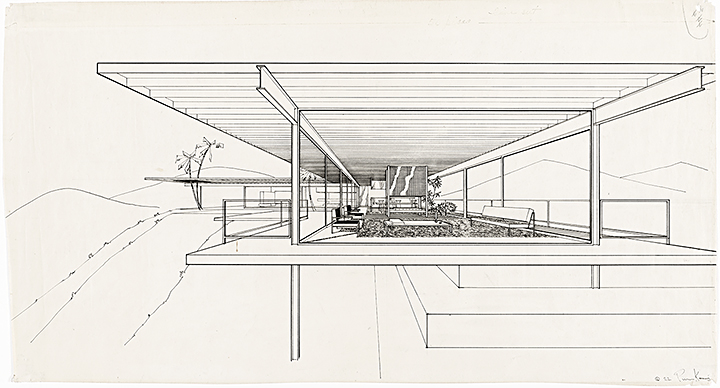 Unique domestic forms emerged through the implementation of new fabrication techniques and materials, which had been rigorously tested by industrial research labs during World War II. From the tract houses of Lakewood and the towers of Park La Brea to the Case Study and experimental homes of the Hollywood Hills, designers and developers employed pioneering methods to create communities that sustained L.A.'s diverse and burgeoning population.


Case Study Houses
The groundbreaking Case Study House Program was conceived by John Entenza, the creative and discerning Los Angeles-based editor of Arts & Architecture magazine.
Video » The Case Study House Program: Realized Designs. Part I
Video » The Case Study House Program: Realized Designs. Part II
In the January 1945 issue, Entenza announced an ambitious plan to generate new thinking about the postwar residence. He urged architects to design and build homes that would not only explore the advantages of modern residential living but also promote the economical construction concepts of prefabrication and mass production. By the time the program ended in 1966, 37 projects had been initiated, and 25 had been realized. Although none of the model homes secured the financial backing to be mass-produced, the built designs became renowned, highly coveted examples of midcentury architecture's potential and allure.


Video » Lakewood: "The Future City as New as Tomorrow"
Capitalizing on high consumer demand and government loan incentives following World War II, developers rapidly constructed master-planned blocks of single-family homes and apartment complexes, such as those in the City of Lakewood. Prefabrication methods and inexpensive materials were successfully used to realize the mass-production ideals that the Case Study House architects had hoped to make mainstream.
Restrictive housing covenants, ruled unconstitutional in 1953, prevented minority groups from purchasing property in many new neighborhoods. There were notable exceptions like Aliso Village, a federally subsidized project that prioritized racial diversity. Such progressive efforts were undermined during the McCarthy era of the 1950s, when public-housing programs became suspect as socialist endeavors.
Video » Baldwin Hills Village: 1942–1950
While Los Angeles is better known for its sprawling tracts of single-family homes, its diverse apartment complexes form an intriguing, often overlooked dimension of the residential landscape. Architects such as Rudolph Schindler, Raphael Soriano, and others employed elegant site- and floor-plan strategies to seamlessly incorporate the outdoors and foster neighborly interaction as seen in Baldwin Hills Village.
In the 1950s and 1960s, a specific apartment type was widely developed in response to residents' growing need for off-street parking accommodations. Commonly called "dingbats," these compact stucco structures often featured partially overhanging second levels supported by thin columns, which allowed for cars to be parked underneath. Facades ornamented with starburst motifs and catchy lettering enlivened the whimsically named buildings to give them increased curb appeal.
Visionary Houses
Los Angeles architects utilized the residence as a testing ground for some of their most radical and inspired work. Uninhibited by convention, John Lautner integrated a dwelling's required functions in sculptural, organic, yet technically advanced forms as seen in his futuristic Malin House (Chemosphere).

Frank Gehry and Morphosis's Thom Mayne augmented their existing, traditional homes with new layers and spaces that simultaneously conceal and reveal the original structure. Frederic Lyman was influenced by Japanese architecture to explore how the post-and-beam framework could create an open floor plan appropriate to the Southern California environment. Such experimental houses reinterpreted and energized the domestic landscape, making L.A. an important destination for aspiring designers.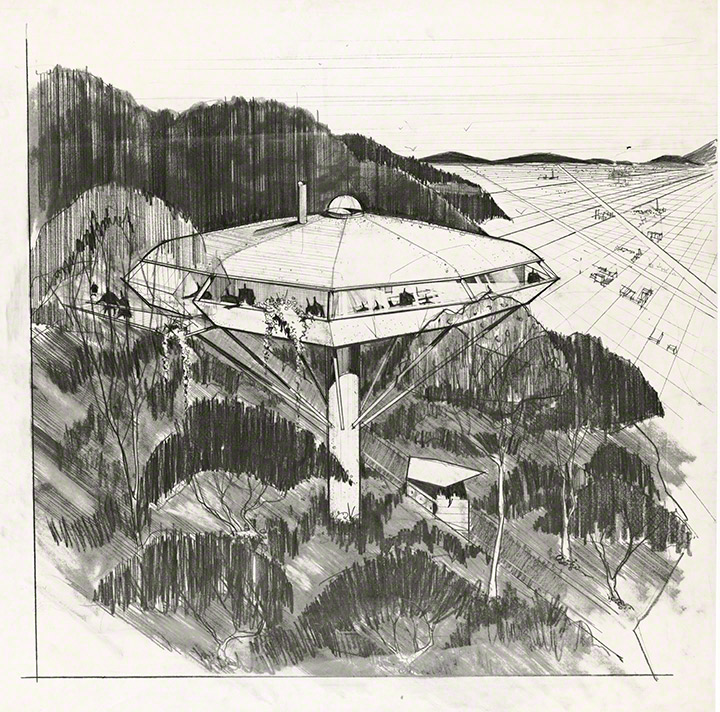 Banner image:
LAX Theme Building by Pereira & Luckman, Welton Becket & Associates, and Paul R. Williams
(detail), construction completed 1961. Pencil, watercolor, and gouache on board, 1958, 36 x 48 in. (91.4 x 121.9 cm). Alan E. Leib Collection. Image courtesy of and © Luckman Salas O'Brien
Publication

Pacific Standard Time Presents