Community Magnets
Los Angeles used architecture to bolster its modern identity and promote social engagement through vibrant destinations dedicated to culture, sports, consumerism, and faith. The construction of Dodger Stadium heralded the birth of legions of Major League Baseball fans in L.A. The influential advent of Disneyland redefined amusement-park design as well as worldwide popular culture.


Culture: The Music Center
Through the vision and fund-raising prowess of Dorothy Buffum Chandler, a member of the powerful Los Angeles Times publishing family, L.A. County was able to construct the Music Center seen below, consisting of a music pavilion completed in the 1960s. Created by Welton Becket & Associates, the complex was placed on a prominent Bunker Hill site west of City Hall.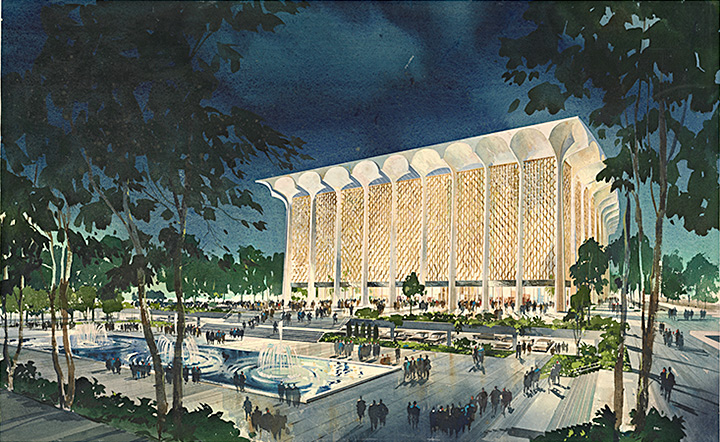 Two decades after its opening, the Music Center organized a competition for the design of a new building for the Los Angeles Philharmonic. Frank Gehry's provocative entry was selected in 1988 over the submissions of several internationally renowned architects. Completed in 2003 across the street from the original concert hall, Gehry's structure—named in honor of Walt Disney after a substantial gift from his widow—is famous for its exceptional acoustics and dramatic sculptural form. The project regalvanized civic efforts to make Grand Avenue the cultural axis of Downtown L.A.


Sports: The 1984 L.A. Olympics
The Olympic Games returned to Los Angeles in 1984, 52 years after the city had first hosted them. Confronted with public concern about the potential cost, organizers decided to use existing buildings for the major sporting events rather than construct new ones.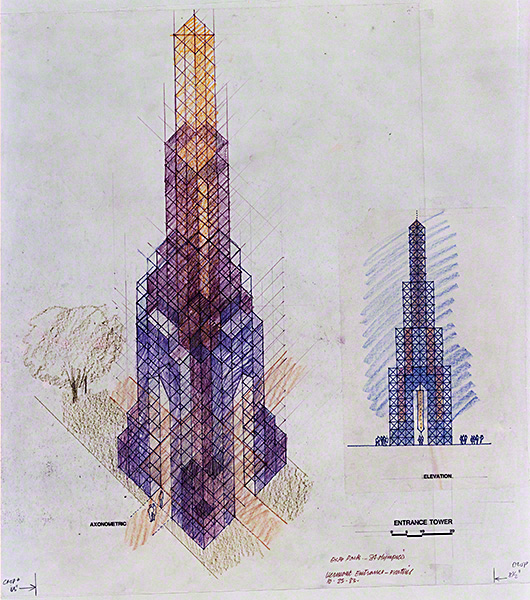 They also chose to make all the smaller facilities, such as information and ticketing booths, out of inexpensive temporary materials—scaffolding, cardboard tubes, fabric, and inflatable elements. Under the leadership of the Jerde Partnership (for architecture) and Sussman/Prejza (for color and graphic design), architects fashioned light and lively concession areas, gates, viewing stands, plazas, and a 145-foot entrance tower. L.A.'s fiscally conservative but creative approach resulted in the first profitable Olympics in history.


Consumerism: Retail Centers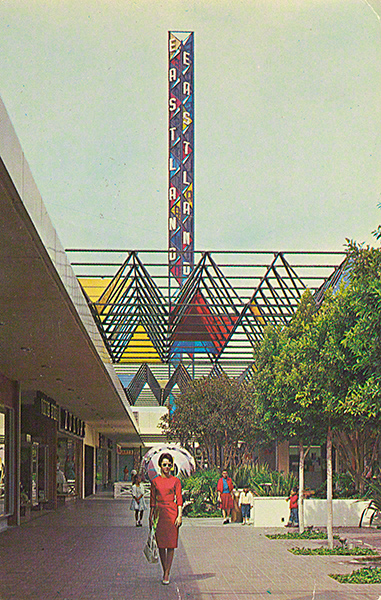 As Los Angeles expanded, innovative retail complexes of various scales and configurations became pivotal community destinations. Lakewood Center, surrounded by acres of parking lots, was the architectural and economic anchor of a master-planned city north of Long Beach.
Advertisements promoting the launch of Milliron's department store, adjacent to LAX, proclaimed pride in serving an "area on the threshold of a new era of even greater growth and development." Convenient shopping centers, such as Eastland Shopping Center in West Covina, quickly evolved into vibrant social hubs. Frank Gehry's Edgemar converted a Santa Monica egg-processing warehouse into an intimate indoor-outdoor commercial space. Universal CityWalk, reminiscent of Disneyland's Main Street, U.S.A., on steroids, maximized the scope and aesthetic impact of entertainment-driven consumerism.
Video » Lakewood Center: The Core of a Community
Faith: Diverse Designs
Considering traditional elements such as Gothic windows or portals to be obsolete, modern architects developed new ways to express the function and character of sacred buildings. In his Wayfarers Chapel overlooking the ocean, Lloyd Wright employed expansive walls of glass to emphasize the relationship between man and nature. For structures located along major urban thoroughfares, such as Sinai Temple or Saint Basil Church, architects used sculptural designs and bold forms to impact the streetscape, draw the attention of passersby, and claim a place in the neighborhood.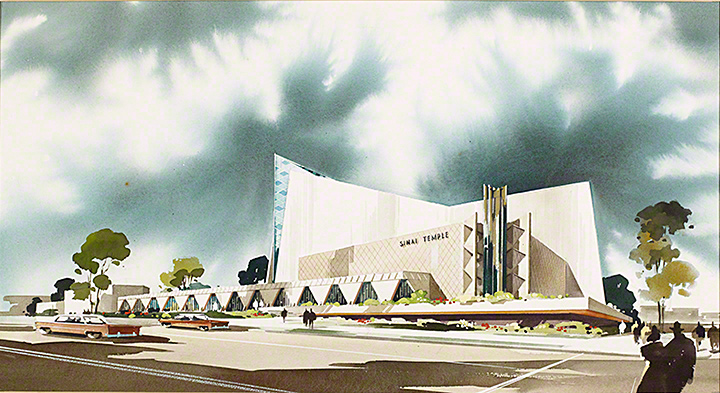 Banner image:
LAX Theme Building by Pereira & Luckman, Welton Becket & Associates, and Paul R. Williams
(detail), construction completed 1961. Pencil, watercolor, and gouache on board, 1958, 36 x 48 in. (91.4 x 121.9 cm). Alan E. Leib Collection. Image courtesy of and © Luckman Salas O'Brien
Publication

Pacific Standard Time Presents