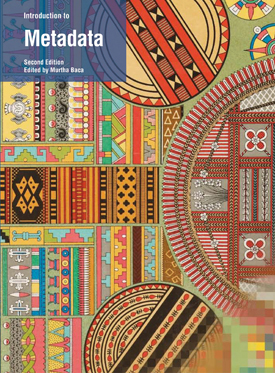 Introduction to Metadata (2nd edition)
Edited by Murtha Baca, with contributions by Anne J. Gilliland, Tony Gill, Mary S. Woodley, and Maureen Whalen
2008
88 pages
PDF file size: 2.70 MB
Description
Paperback and e-book versions also available for sale. Published July 2016.

Metadata, literally "data about data," provides a means of indexing, accessing, preserving, and discovering digital resources. The volume of digital information available over electronic networks has created a pressing need for standards that assist in locating, retrieving, and managing this vast and complex universe of information.

This revised edition of Introduction to Metadata, first published in 1998 and updated in an online version in 2000, provides an overview of metadata: its types, roles, and characteristics; a discussion of metadata as it relates to resources on the Web; a description of methods, tools, standards, and protocols that can be used to publish and disseminate digital collections; and a handy glossary.

Newly added to this edition are an essay on the importance of standards-based rights metadata to the activities of cultural institutions; a section entitled "Practical Principles for Metadata Creation and Maintenance"; and the latest information on metadata harvesting and the role of Google and other commercial search engines in the rapidly evolving field of digital libraries.

The Introduction To series deals with complex issues and tools related to the production, management, and dissemination of cultural heritage information resources.
Table of Contents
Introduction
Murtha Baca
Setting the Stage
Anne J. Gilliland
Metadata and the Web
Tony Gill
Crosswalks, Metadata Harvesting, Federated Searching, Metasearching: Using Metadata to Connect Users and Information
Mary S. Woodley
Rights Metadata Made Simple
Maureen Whalen
Practical Principles for Metadata Creation and Maintenance
Glossary
Selected Bibliography
Contributors
About the Authors
Murtha Baca is Head of the Getty Vocabulary Program at the Getty Research Institute in Los Angeles. She holds a Ph.D. in art history and Italian language and literature from the University of California, Los Angeles (UCLA). She is the author of numerous articles in the field of art documentation. In addition, she is the editor of Introduction to Art Image Access (Getty Research Institute, 2002) and a coeditor of Cataloging Cultural Objects: A Guide to Describing Cultural Works and Their Images (American Library Association, 2006). Baca has taught workshops and seminars on metadata, visual resources cataloging, and thesaurus construction at museums, universities, and other organizations in North and South America and Europe; she teaches a graduate seminar on metadata in the Department of Information Studies at UCLA.

Tony Gill is the Global Library Science Specialist for an advertising agency in New York. He is also an adjunct professor at New York University's Graduate School of Arts and Science, where he teaches a class on Interactive Technology in Museums as part of the Museum Studies program. Gill spent thirteen years developing collaborative, standards-based solutions for the creation and delivery of digital cultural heritage information before assuming his current position. He has degrees in communication and computing (Middlesex University) and physics and philosophy (King's College, London). He is the author of a number of publications on the use of information technology in the cultural heritage sector, including The MDA Guide to Computers in Museums (Museum Documentation Association, 1996), and "3-D Culture on the Web" (RLG DigiNews 5, no. 3 [June 2001]). He is a coauthor of the CIDOC Conceptual Reference Model (ISO Standard 21127:2006).

Anne J. Gilliland is Professor of Information Studies and Moving Image Archive Studies in the Department of Information Studies at the University of California, Los Angeles (UCLA), and Director of the Center for Information as Evidence at UCLA. She holds a Ph.D. in information and library studies, with a cognate in business information systems, from the University of Michigan. Her extensive publications include Enduring Paradigm, New Opportunities: The Value of the Archival Perspective in the Digital Environment (Council on Library and Information Resources, 2000); and "MetadataóWhere Are We Going?" in International Yearbook of Library and Information Management (Facet Publishing, 2003). Her areas of research and teaching include archives and manuscripts, multimedia information resources, management of digital records, information as evidence, and information-seeking and use.

Maureen Whalen is Associate General Counsel at the J. Paul Getty Trust, where she works on cultural property and intellectual property matters. She received her undergraduate and law degrees from the State University of New York at Buffalo and her MLS from the University of California, Los Angeles. Whalen is active in the Museum Attorneys Group and was a member of the Section 108 Study Group, formed to prepare findings and make recommendations to the Librarian of Congress for possible alterations to Section 108 of the Copyright Act that would take into account current technologies.

Mary S. Woodley received her Ph.D. from the University of California, Los Angeles, in classical archaeology and her MLIS in library science. Since 1994 she has worked professionally as a cataloger at the Getty Research Institute and at California State University, Northridge (CSUN), cataloging all formats of information resources. More recently, she has focused on cataloging digital objects using a variety of metadata standards and controlled vocabularies. She is an active member of the Dublin Core Metadata Initiative and is a member of its advisory board. Woodley is also an elected member of the Cataloging and Classification Executive Committee of the American Library Association's Association for Library Collections and Technical Services (ALCTS). She has published on digital projects and metadata and recently created a workshop on managing digital projects for ALCTS and the Library of Congress. She teaches an advanced seminar on knowledge management at CSUN.
Press Reviews and Awards
"An excellent starting point for information professionals to gain a basic understanding of fundamental concepts, then move ahead with a guided path for further research and study." —Art Documentation