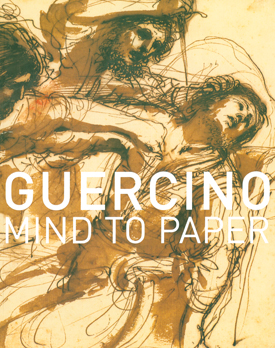 EXHIBITION CATALOGUE
Guercino: Mind to Paper
Julian Brooks, Nathaniel E. Silver, Michael Brand, Deborah Swallow
2006
112 pages
PDF file size: 10.7 MB
Description
Why is a cross-eyed man from the small town of Cento in northern Italy now regarded as one of the greatest draftsmen of the seventeenth century? Featuring important Guercino drawings from the Courtauld Institute of Art Gallery, London, and the J. Paul Getty Museum, Los Angeles, this volume looks deeply into the nature of the artist's extraordinary talent for drawing.
Table of Contents
Foreword
Michael Brand and Deborah Swallow
Acknowledgments
Introduction
Guercino's Life
The Casa Gennari and the Provenance of Sir Robert Witt's Guercino Drawings
Characterizing Guercino's Draftsmanship

Inventiveness and Process
Energy and Spontaneity
Texture, Shadow, Light, and Space
Humor and Humanity

Notes
Catalogue
Exhibitions and Literature Cited
Index
About the Author
About the Authors
Julian Brooks, Assistant Curator of Drawings at the J. Paul Getty Museum, is a specialist of Italian sixteenth- and seventeenth-century drawings. From 2000 to 2003 he was Print Room Supervisor at the Ashmolean Museum, Oxford, where he co-curated, with Catherine Whistler, and wrote the catalogue for, the exhibition Graceful and True: Drawing in Florence c. 1600 (Oxford, 2003). He received his doctorate from the University of Oxford in 1999; his thesis studied The Drawings of Andrea Boscoli (c. 1560–1608).