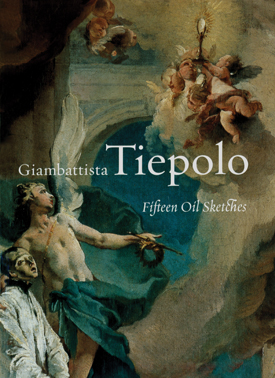 EXHIBITION CATALOGUE
Giambattista Tiepolo: Fifteen Oil Sketches
Jon L. Seydl
2005
96 pages
PDF file size: 36.8 MB
Description
Giambattista Tiepolo (1696–1770) was the greatest Italian painter of the eighteenth century, best known for his monumental frescoes and epic altarpieces. The scale of these paintings is immense, even overpowering. Yet some of Tiepolo's finest work can be found in the small oil sketches that he often made in preparation for these grand commissions.

Published to coincide with an exhibition at the J. Paul Getty Museum, Giambattista Tiepolo: Fifteen Oil Sketches brings together a group of the artist's oil sketches—most of them from the Courtauld Institute of Art in London—that span his entire career and reveal the amazing confidence and fluidity with which he created these paintings. The unusual intimacy of these preparatory sketches—made directly on the canvas, with little or no preliminary underdrawing—reveals a great artist's vigorous imagination at work.

Jon L. Seydl, assistant curator of Paintings at the J. Paul Getty Museum, provides an introductory essay that situates these great paintings within the context of eighteenth-century art and Tiepolo's life and career.
Table of Contents
Foreword
William M. Griswold
Acknowledgments
Introduction
Catalogue

1 Allegory of the Power of Eloquence
2 The Madonna of the Rosary
3 Saint Luigi Gonzaga in Glory
4 Apollo and Phaethon
5A Saint Rocco
5B Saint Rocco
6 The Martyrdom of Saint Agatha
7 The Trinity Appearing to Saint Clement
8 The Translation of the Holy House of Loreto

Tiepolo and the Oil Sketches for the Church of San Pascual Baylon, Aranjuez

9 Saint Pascal Baylon's Vision of the Eucharist
10 The Immaculate Conception
11 Saint Francis of Assisi Receiving the Stigmata
12 Saint Charles Borromeo Meditating on the Crucifix
13A Saint Joseph with the Christ Child
13B Two Heads of Angels (Fragment of Saint Joseph with the Christ Child)

Exhibitions and Literature Cited
Index
About the Authors
Jon L. Seydl is assistant curator of paintings at the J. Paul Getty Museum.