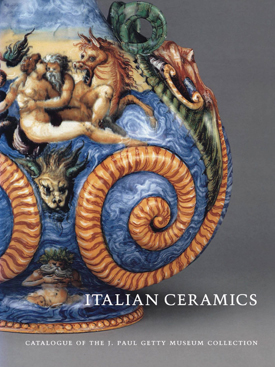 GETTY COLLECTIONS
Italian Ceramics: Catalogue of the J. Paul Getty Museum Collection
Catherine Hess
2002
224 pages
PDF file size: 35.1 MB
Description
In 1984 the Getty Museum acquired an exceptional collection of Italian Renaissance maiolica, or tin-glazed earthenware. These often brilliantly colored objects range from an early Florentine jar with relief-blue decoration to a much later Mannerist dish with grotesque ornament. The collection was the subject of Italian Maiolica, a beautifully illustrated catalogue that the Museum published in 1988.

Italian Ceramics amplifies and updates the earlier volume; including objects—some of them porcelain and terracotta—acquired during the intervening years. Among them are a pair of eighteenth-century candlesticks representing mythological scenes and a tabletop with hunting scenes; and, from the 1790s, the beautifully modeled and painted Saint Joseph with the Christ Child.

Italian Ceramics contains the most recent scientific, historical, and iconographic information about the Museum's holdings. Completely revised and expanded, this book offers a wealth of new information about the Getty Museum's superb collection, which spans more than four centuries of Italian ceramic art.
Table of Contents
Foreword
Acknowledgments
Ceramic Production Centers
Introduction
Catalogue
Literature Cited
Profiles
Index
About the Authors
Catherine Hess is associate curator of sculpture and works of art at the J. Paul Getty Museum.