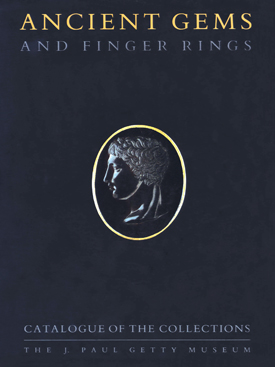 GETTY COLLECTIONS
Ancient Gems and Finger Rings: Catalogue of the Collections of the J. Paul Getty Museum
Jeffrey Spier
1992
200 pages
PDF file size: 34.0 MB
Description
Ancient Gems and Finger Rings catalogues the J. Paul Getty Museum's comprehensive and important collection of Greek, Roman, Etruscan, and Near Eastern gems. Most of these objects have never before been published, making this catalogue essential for the scholar. The volume is fully and richly illustrated—each entry includes photographs of the gem and its impression as well as a profile drawing. Where pertinent, bibliographic references and comparative material are cited.
Table of Contents
Foreword
John Walsh
Acknowledgments
Abbreviations
Catalogue

Guide To The Catalogue Descriptions
Shapes
Materials
Plates
Greek Gems
Minoan and Mycenaean Gems
Geometric and Archaic Gems
Classical and Hellenistic Gems: Fifth–Second Century BC
Glass Scaraboids
Greek Rings
Archaic Rings
Classical and Hellenistic Rings
Western Rings
Decorative Rings
Bronze and Iron Rings
Ptolemaic Rings
Near Eastern and Phoenician Seals
The Lyre-Player Group Seals
Syro-Phoenician Seals
Graeco-Phoenician Scarabs
Graeco-Persian Gems
Achaemenid Glass Conoids, Scaraboids, and Tabloids
Achaemenid Rings
Etruscan Scarabs
Italic, Late Hellenistic, and Roman Gems
Italic Gems: Third–First Century BC
Italic Pellet-Style Gems: First Century BC
Italic Gems without Pellets
Late Hellenistic, Eastern Gems
Early Imperial Classicizing Gems
Second–Third Century AD Gems
Roman Rings
Glass Gems
Roman Cameos
Sasanian Gems
Greek and Roman Sealings

Subject Index
Materials Index
Inscriptions Index
Provenance Index
Previous Collections Index
Other Ancient Gems and Rings in the Getty Museum
Concordance of Accession Numbers and Catalogue Numbers
About the Authors
Jeffrey Spier is an Honorary Research Fellow at University College, London in the Institute of Archeology. He is also a lecturer in Greek Numismatics.