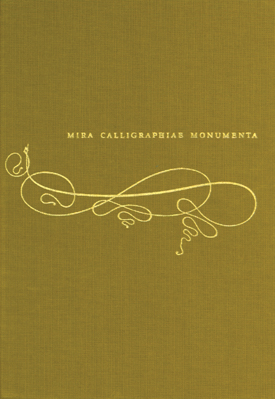 GETTY COLLECTIONS
Mira calligraphiae monumenta: A Sixteenth-Century Calligraphic Manuscript Inscribed by Georg Bocksay and Illuminated by Joris Hoefnagel
Lee Hendrix and Thea Vignau-Wilberg
1992
424 pages
PDF file size: 20.0 MB
Description
In 1561–62 the master calligrapher Georg Bocskay, imperial secretary to the Holy Roman Emperor Ferdinand I, created the Mira calligraphiae monumenta as a demonstration of his own pre-eminence among scribes. Years later, Ferdinand's grandson, the Emperor Rudolf II, commissioned Europe's last great manuscript illuminator, Joris Hoefnagel, to embellish his work. The resulting book is at once a treasury of extraordinary beauty, a landmark in the cultural debate between word and image, and one of the most intriguing memorials of Rudolf's endlessly fascinating rule in Prague.

This complete facsimile of the codex, now in the J. Paul Getty Museum, is supported by scholarly commentaries and biographies of both artists. Bocskay assembled a vast selection of contemporary and historical scripts for a work which summarized all that had been learned about writing up to that date—a testament to the universal power of the written word. The finest white vellum and lavish use of gold and silver highlighted his flamboyant technical prowess and extraordinary sureness of hand.

Hoefnagel took his commission to decorate this marvel, now accompanied by an alphabet of Roman majuscules and Gothic miniscules, as a challenge to prove the superiority of his art over Bocskay's words. Every resource of illusionism, color and form was employed in a rich, striking, and witty scheme. Brilliant grotesques of all kinds—flowers, fruit, insects, animals, monsters and masks—counterpoint the lettering and elaborate on the nature of the universe, the word of God, and the glory of His temporal representative, the Holy Roman Emperor Rudolf II.

Of consuming interest to scholars, collectors, bibliophiles and art historians, this remarkable opus will also be a key source of inspiration for graphic designers, typographers, practising calligraphers and devotees of the art of the book.
Table of Contents
Foreword
John Walsh
Preface
Thomas Kren
Mira calligraphiae monumenta: An Overview
Lee Hendrix
Georg Bocskay, The Calligrapher
Thea Vignau-Wilberg
Joris Hoefnagel, The Illuminator
Thea Vignau-Wilberg
The Writing Model Book
Lee Hendrix
The Constructed Alphabet
Thea Vignau-Wilberg
Codicological Description of the Manuscript
About the Authors
Lee Hendrix is associate curator of drawings at the J. Paul Getty Museum.

Thea Vignau-Wilberg is a curator of Netherlandish Prints and Drawings at the Staatliche Graphische Sammlung, Munich.