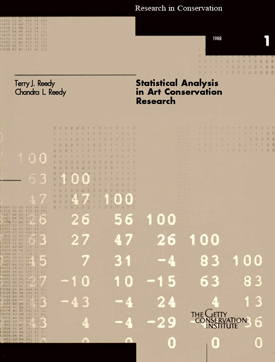 Statistical Analysis in Art Conservation Research
Terry J. Reedy and Chandra L. Reedy
1988
116 pages
PDF file size: 1.0 MB
Description
This technical report reviews the use of statistics in art conservation research. Its aim is to examine how statistical analyses have been handled in published conservation research studies and to suggest alternative approaches. All components of data analysis—including experimental design, data organization, and statistical techniques—are evaluated.
Table of Contents
Preface
Statistical Analysis and Art Conservation Research
Composition of Art Materials and Objects
Deterioration Studies
Conservation Treatments and Materials
Statistical Analysis of Conservation Papers
Appendix
Glossary
References
Index
About the Authors
Terry J. Reed has been a consulting statistician since 1979 in the Biomathematics Unit of the Center for Ulcer Research and Education, at the University of California, Los Angeles, Medical School. This has given him broad experience with the practical problems of data analysis in scientific research. He also works as an independent consultant.

Chandra L. Reedy is an Andrew W. Mellon Fellow in Conservation Research at the Los Angeles County Museum of Art. Her particular interest is introducing scientific methods into the study of art.